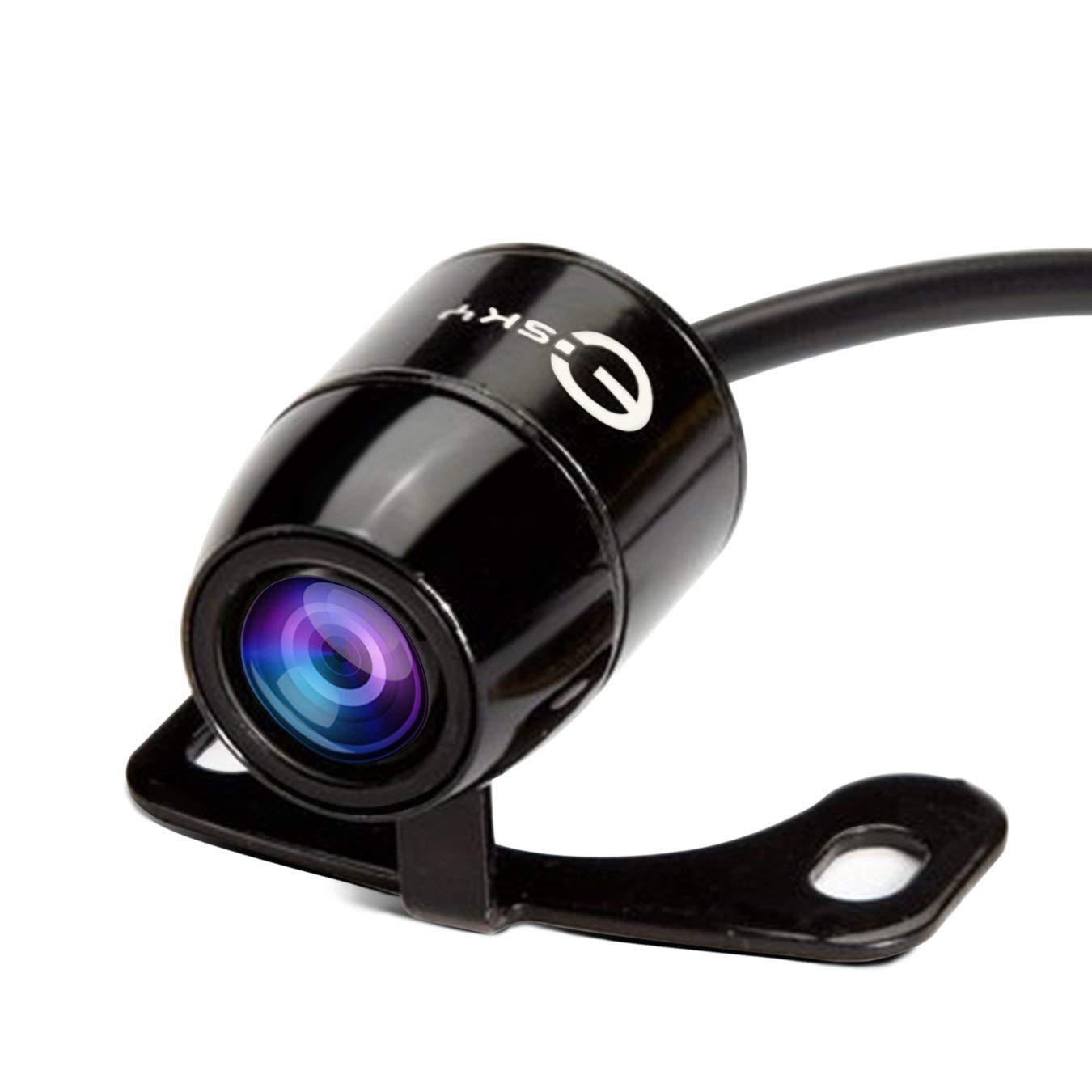 Backup Camera,Esky Mini HD Color CMOS Waterproof 170 Degree Viewing Angle Rearview Camera Car Reversing Rear ViewSide ViewFront View Security Pinhole Spy Camera--Optional Guideline(YESNO)
$21.99
x
Backup Camera,Esky Mini HD Color CMOS Waterproof 170 Degree Viewing Angle Rearview Camera Car Reversing Rear ViewSide ViewFront View Security Pinhole Spy Camera--Optional Guideline(YESNO)
EAN: 6952848679303
FOR ALL VEHICLES: Esky Mini Rear view camera has a universal fit so it can be perfect for all kinds of vehicles. The camera is also very easy to set up and it is suitable for cars, RVs, trucks, SUVs and more

ONE-BUTTON CONTROL: This streamlined vehicle backup camera is all business and no frills. Easy one-button control allows you to shift between front view, back view, and turn guidelines on and off. One press is all it takes

VISUAL ANGLE LENS: 170 degree visible range works great with the blind spot. Built in night sensor, clear view even at night.

HIGH QUALITY: Hi-definition Color CMOS, NTSC TV system, 628 X 586 pixels/510 x 496 Pixels, 420 TV lines, DC 12V working Voltage

EASY TO INSTALL AND SMALL SIZE: Professional exterior waterproof car rear view camera, easy to install and operate. Your satisfaction comes first! If any question, Esky 24 Hours Customer Service is online. Contact us for Technical Support or Replacement if you have any question and we'll be happy to help you!
Good picture seems to be good so far 4 months

Reviewed in the United States on

Excellent delivery and good product

Reviewed in the United States on

I am working on a digital transmitter and bac

Reviewed in the United States on

Can't beat for the price

Reviewed in the United States on

Perfect bullet cam

Reviewed in the United States on

Awesome value for money

Reviewed in the United States on

Backup camera

Reviewed in the United States on

Great color from the camera

I originally purchased the one with guidelines, but they accepted my return and I ended up getting the one without guidelines. My head unit has it's own guidelines that you can enable/disable and also adjust, so the one without the guideline made more sense to get.

Color on this is great during the day. And at night, with the reverse lights on, I can see what I need to see, so night vision is not something I'm missing. I have it hooked up so that I can turn it on without my vehicle needing to be in reverse, but it will also automatically come on when I put it in reverse.

It is very small and that is what I liked about this one. I have it mounted so that it's not entirely exposed to the weather, it rains a lot, so it's pretty shielded from direct rain.. but it gets wet, and I haven't had any issues of water getting in the housing... but, if there is water on the lens, your view is not so great when it's activated.. I usually wipe it off when going by the back of my ride before getting in..

If there is one thing that I don't like, it's the distance of what you are seeing, reason why I wanted to use my own guidelines instead of the one that is on the camera. Things are WAY closer than they actually look. Also, the viewing angle on this camera is more like a fish-bowl type of view. Wish it was more of a true wide view instead of a fishbowl view.. (ok, so that was 2 things that I didn't like/bugged me).

I will try to upload some pictures...

Great for the purpose I need it for

I am using this camera for continuous rear viewing while riding my motorcycle (for safety, not running).  It has a great field of view and the motion while riding is smooth.  To make this a more effective purchase, I need a little bigger monitor or a more narrow field of view.  Since the field of view is so wide, you can only see things really close to the bike; therefore you will need a bigger monitor than 4" screen.

The system was SUPER easy to install.  I ran my wires back to the 'glove box' on the bike and spliced into my license plate light for power…  Taped everything to aid in waterproofing and prevent disconnecting; done in 30 mins and it is a VERY clean install…

I have not run into any rain situations, so I do not know how well this will hold up in wet weather.  I definitely recommend this product.  Even if it messes up, its cost is sooooo much cheaper than buying the professional ones for $100 or more.  It can be easily replaced.

Great camera with a great price

This camera works great, and has a nice clear picture.  I mounted this on the back of my travel trailer, and ran the video feed to a monitor in my truck.  This thing is nice and small, and I was able to add it without making it an eyesore on the flat wall of my trailer.
Specification
- Image device: Hi-definition Color CMOS
- TV system: NTSC
- Effective pixels: 628 X 586 pixels/510 x 496 Pixels
- Resolution: 420 TV lines
- Lens Angle: 170 degree
- Power supply: DC 12V

Package Included
- 1 x Esky Car Rear View Camera
- 1 x DC power cable
- 1 x AV cable (19 ft)

Seller Warranty
- 30-Day Money Back Guarantee
- 12 Month Replacement Warranty
- Lifetime Support Guarantee