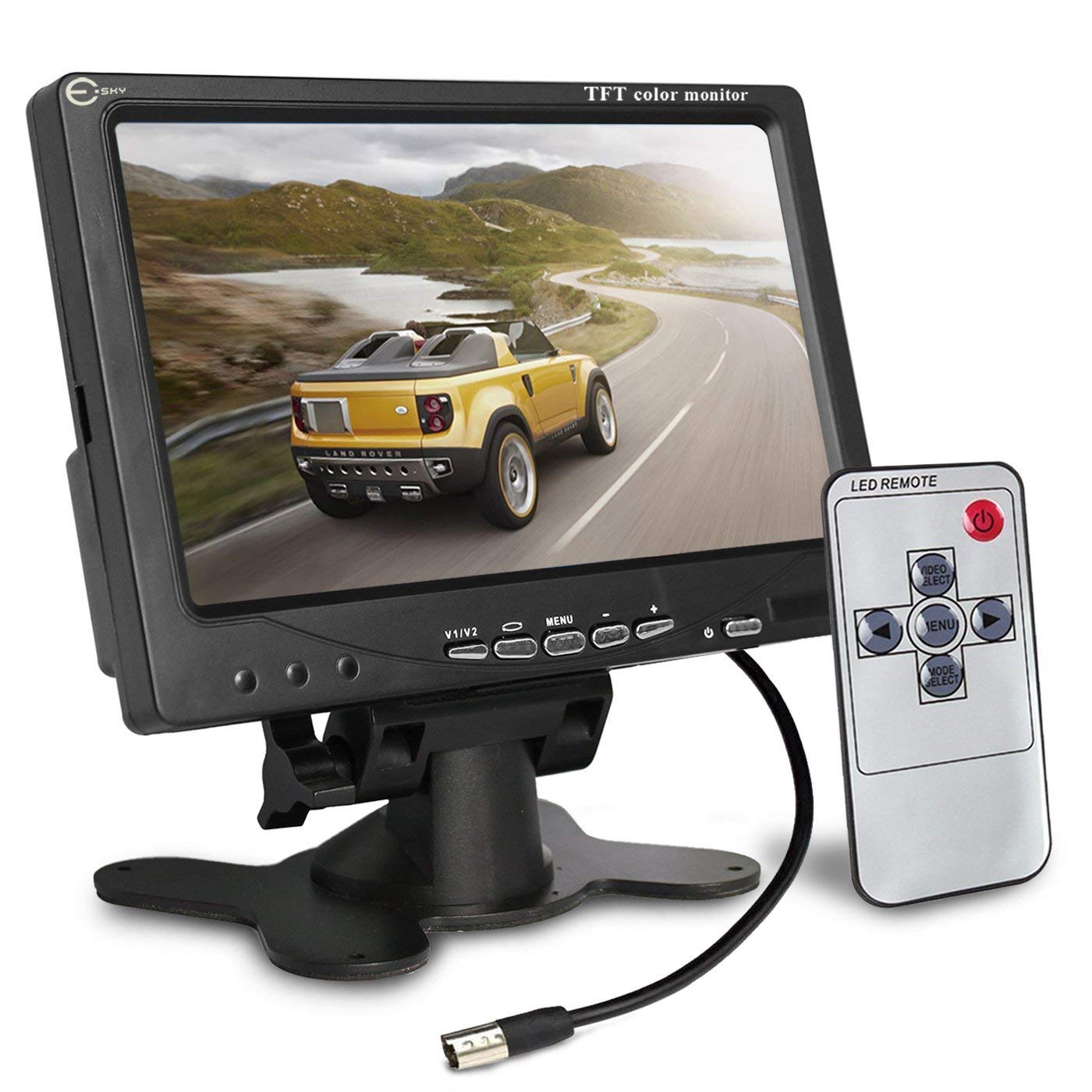 Esky Backup Camera Monitor 7 Inch Rearview Reversing TFT LCD Color Display DVD VCR Monitor Screen, Two Video Input Plug V1V2 Car Cameras,Parking Monitor Assistant with Wireless Remote Control & Stand
$34.99
x
Esky Backup Camera Monitor 7 Inch Rearview Reversing TFT LCD Color Display DVD VCR Monitor Screen, Two Video Input Plug V1V2 Car Cameras,Parking Monitor Assistant with Wireless Remote Control & Stand
UPC: 621767674817
7" LED Color TFT LCD monitor: With 7" wide screen,the monitor works perfectly with car rearview cameras, supports Car DVD,serveillance camera, STB, satellite receiver and other video equipment

2 Channels Video Inputs: 2 AV inputs. AV1 connects to car DVD, VCR and other video equipment. AV2 to car backup camera. With the remote controller or video selecting,you can choose to see AV1 or AV2

High Resolution Images Quality: With a full color high quality LCD Display, the Esky car rear view monitor will give you an excellent idea of your surroundings, providing you with excellent image quality

Multi Support: With rotating the screen. Screen ratio 16:9/4:3 adjustable. Support adjust the Brightness, contrast, color.

Easy to Use and Operate; Comes with an IR remote controller for a easy operation,adjustable to your needs; 2 ways to install: standing or mounting. If you encounter any problems, please contact us immediately, we will reply in the first time and try our best to help you until the problem is solved!
Great quality for the money!  Fit the spot I wanted it just perfect. The additional frame is really nice and it makes the mounting a dream.

Using as a rear view camera monitor.  Inexpensive and works well.

Looks really good but could use some antiglare on the screen.

a great little system for the price

So far, a great little system for the price. I installed one in our Four Winds 19' RV. The camera is so small that I mounted it inside, behind the venetian blind, looking out the rear window. I ran the coax (which is pretty light stuff, but works) through the cupboards from the front, and mounted the monitor to the rear view mirror by passing large zip ties through the tabs on the back of the monitor holder and around the mirror. The coax comes with an extra red wire at each end coming from the motorola plugs. This allows the cable shielding to act as a conduit for 12v power to the camera. I just attached the camera end red wire to the camera power supply, and attached the ground to the ground wire of a near-by cabinet light. At the front end, I attached the power supply for both the camera (via the red wire on the other end of the coax) and the monitor to a wire which is hot (12v+ only with the ignition on, and the ground to a convenient body screw. The camera stays on whenever the ignition is on, providing a permanent rv mirror. The system uses only milliamps, so I don't see why it should do it any harm to be on any time the engine is running. Time will tell. Hell, for $39 just plug in a new monitor or camera if something burns out.

Cheap and tough little LCD that I use for video testing. Image quality can be quite good for CVBS input. Remote works well.

I was iso a rear-view camera and monitor combination to be used on our 20' RV trailer. I wanted more than just simple back-up capabilities and was not interested in spending hundreds dollars for something I'm only going to use periodically. So, rather than buy a dedicated back-up system, I decided to piece together a system and customize it. The Esky® 7 inch TFT LCD Color 2 Video Input Car Rear View Monitor DVD VCR Monitor With Remote and Stand was the monitor I chose. I bought two additional cameras (one for my truck for lining up ball and hitch and the other for the back of the trailer for traffic monitoring and backing up) and the entire purchase price was less than $60. Because the Esky® 7 inch TFT LCD Color 2 Video Input Monitor supports two video inputs, it made it the perfect choice for me in both affordability and function. Having just used it to travel to northern Michigan for a camping trip, I can say it worked flawlessly. While I did not leave it on for extended periods of time, while it was on it worked great.

Really great product for the price works great for me I ...

Really great product for the price works great for me I got the backup camera along with it and hooked it up to a toggle switch and wired the screen up to a cigarette lighter plug

Great quality for price and installed easily with all required wiring

Problems arise and I understand that but the fact that there is not warranty info or a way to contact customer service listed gi

Bought the system in February to install on one of my transport trucks. I just installed last week and one camera is very sharp and clear and I have no issues with that one. The second one is not nearly as sharp and is foggy. It has only been on the truck for a week. Can't return to Amazon , time has run out - my fault should have tried the cameras earlier. There is not contact information to reach out to the manufacturer to remedy this situation. Problems arise and I understand that but the fact that there is not warranty info or a way to contact customer service listed gives me a bad feeling. Because of this I must give this system 2 stars. If customer service contacts me and resolves the issue I will change the evaluation.
Specifications:
- Screen Size: 7" Color TFT LCD
- Aspect Ratio: 100 : 1
- Resolution: 480W x RGB x 234H
- Video System: PAL/NTSC
- Video Inputs: 2-channel video inputs
- Power Supply: DC 9-35V
- Power consumption: Around 8W
- Operation Temperature: 14 ~ 158 Fahrenheit