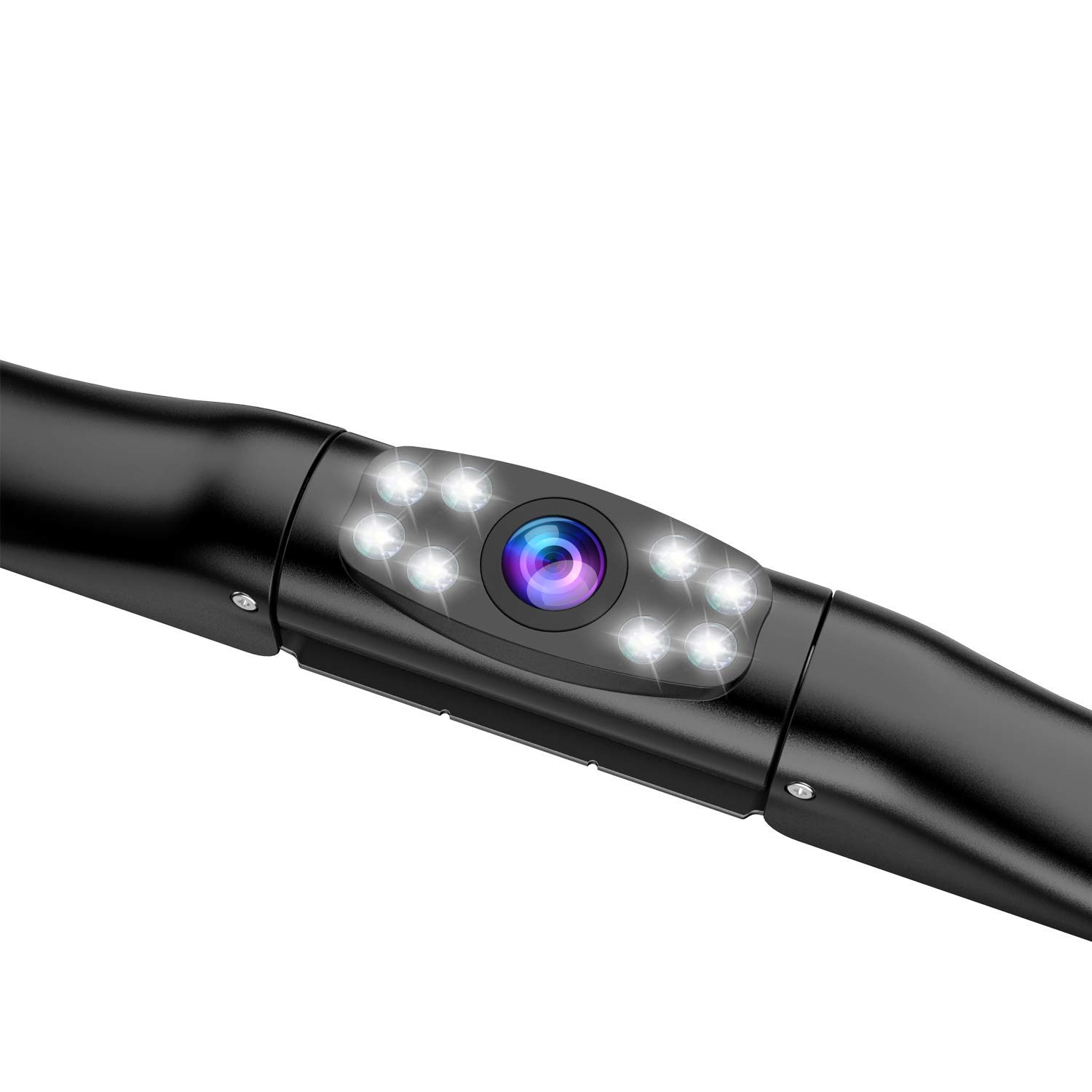 Esky Car Backup Camera 180 Degree Wide Angle Night Vision Waterproof HD CMOS Vehicle Car Rear View Camera (Support Front View), Black, EC180-35
$25.99
x
Esky Car Backup Camera 180 Degree Wide Angle Night Vision Waterproof HD CMOS Vehicle Car Rear View Camera (Support Front View), Black, EC180-35
- 8-LED NIGHT VISION: Upgraded night vision capabilities with 8 flat white LED lights for improved visibility and back-up image capabilities

- ONE BUTTOPN CONTROL: comes equipped with one button control guide, to switch views between front, rear and mirror view, adjust angles and to turn on/of

- 180° WIDE VIEWING FIELD: Works great with the blind spot where your mirror can't reach when driving forward or backing up.

- EASY TO INSTALL & ADJUST: easy to mount camera comes in multiple pieces to allow for placement specific to your car , no drilling required as placement uses existing licence plate holes

- RELIABLE AND FRIENDLY CUSTOMER SERVICE: ready to respond within a 24 hour time frame. 30-Day Money Back Guarantee, 12 Month Replacement Warranty and Lifetime Support Guarantee
First Impressions from an Automotive Imaging Engineer


 (This review is for the One-Button Control with 8 LED Night Vision, this looks like a newer version and is priced significantly higher than the others on this link)
I have been working in the semiconductor business for designing Image Signal Processors and camera SOCs (Chips) for the last 12 years and have recently started focusing on the automotive market. As such, I wouldn't consider it immodest to say that I'm somewhat of an expert in this field :-)
I recently ordered this little camera and am yet to install it in my car. However, I did try testing it out to check how the image quality compares with the state of the art cameras we work with. I will continue updating this review as I play around more with this camera and keep on adding to the list below. Each point is an observation and some are positive, whereas the others are negative.

1) Resolution: This is an older generation camera with standard NTSC/Pal resolution. The output is analog over composite cable. It's unfair to compare this resolution with modern day digital cameras. A typical consumer camera has around 12-20 Mpix for still and typically 2 Mpix (1080p HD) while capturing video. The resolution on these devices is typically 0.3 Mpix which is way lower than even 720P (1 Mpix). However, this seems to be the standard in automotive cameras, with no other after market solution available with a higher resolution. Currently, higher resolutions (up to 1 MPix) can be found in the premium segment (BMWs etc) with penetration in the mid segment happening slowly over the next few years.
[Verdict: Lower resolution, but sufficient and same as other after market cameras]

2) Image Quality: I have to admit, I'm impressed by the image quality and it far exceeds my expectation. The key factors determining image quality can be broken down in to low light sensitivity, sharpness as well as white balance and exposure response. Typically, white balance and exposure are hard to get right in cheaper cameras. An incorrect white balance leads to a color tint, whereas incorrect exposure can cause the image to be over or under exposed. Also, a slow reaction to change can cause the camera to take time to converge. In this case, I found the white balance and exposure to work accurately and very fast. The sharpness and sensitivity worked pretty well too. The attached photo and video clip show the test setup that I put it through. Unfortunately, I didn't have a way to capture the images straight from the camera, so I'm using a cell phone camera to capture the output which doesn't show the truth. Suffice to say, if you take my word for it, this worked really well under the lab settings
[Verdict: Impressive Image quality]

3) Field of View: Claims to be 180 degree, however I think it's closer to 160 degrees really.

4) Cost: I paid 50$ which makes it an expensive camera. I haven't tried the cheaper cameras in the 15-25$ range, so cannot really compare. However, when I bought this, there was a coupon code for a free ESKY 4.3 inch display which sells for around 23$. That gave an effective price of 27$ for the camera, which I think was a really good price.

Overall, a good camera and I plan to test it out more thoroughly. More updates coming as I install this and test it out.

This is an awesome backup camera expecially pitch black nights. Its so clear it looks like daytime

Pros: works well
Cons: Covers license plate sticker - next time I will order one that is in the license plate frame.

This is a pretty good camera

This is a pretty good camera.  Install was quick and easy and the cord was just long enough to reach.  The color hi-def camera offers a great picture.  There are two reasons I didn't give this 5 stars.

1) the installed guidelines are not meant for a pickup, it looks like they would work best with vehicles lower to the ground such as cars.

2) the LED lights installed around the camera create more of a problem than they solve.  With proper back up lights, the LED's are not needed and only wash out the picture.  I will be removing these.

Other than that this thing was a steal for the price.

Great item and easy to install.

Great Value, Great Definition

Works well with my kenwood head unit. Has a nice picture quality to it. Beats a lot of high end cars out there. Which is a good thing, when you consider the price.

I mounted my camera under my truck. I didn't want to attract any attention,  so this was a good place. The LED's light up really well.

I've pressure washed my truck twice. No fogging up of the camera. No water getting inside the housing. So far so good. If anything comes up then I will be sure to update the review.

As mentioned before, the mounting bracket is awkward. It was covering my Month and Year stickers. So keep that in mind. Glad I made the purchase.

***UPDATE***
5 Months after first installing this camera it has held up well. I wash my truck on a weekly basis. We've had some heavy rain in Southern California too. Pressure washed everything and no problems.

Be sure there is no exposure where cables connect. I used electrical tape and wrapped it tight and close with each wrap around.
Specifications
- Image device: Hi-definition Color CMOS
- TV system: NTSC/PAL
- Effective pixels: 717 X 669 pixels/628 x 586 Pixels
- Resolution: 480 TV lines
- Power supply: DC 9-24 V
- Waterproof: IP67
- Dimension: 9.84 * 1.03 * 0.79 inch
- Weight: 4.82 oz
Package Content
- 1 x Esky Car Rearview Camera
- 1 x DC power cable
- 1 x AV cable (19 ft)
Seller Warranty
- 30-Day Money Back Guarantee
- 12 Month Replacement Warranty
- Lifetime Support Guarantee
Notice:
If the product is found to be damaged, it should be immediately discontinued, and contacted us in time for replacement.