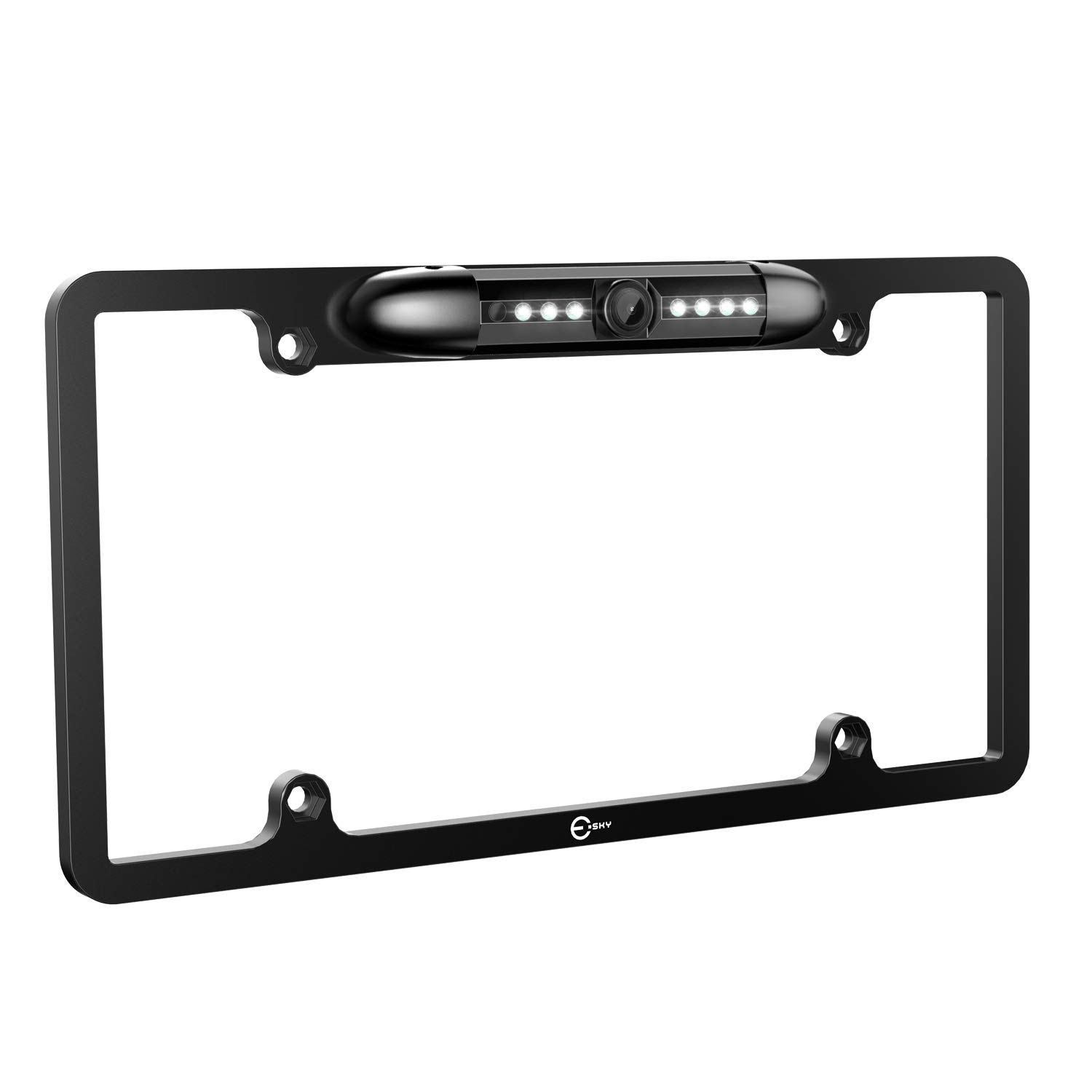 Esky License Plate Backup Camera
$29.99
x
Esky License Plate Backup Camera
License Plate Backup Camera, Esky Rear View Camera 170 Degree Viewing Angle Universal Night Vision Waterproof High Sensitive 7 Bright LED Reversing Car Camera
license
plate
backup
camera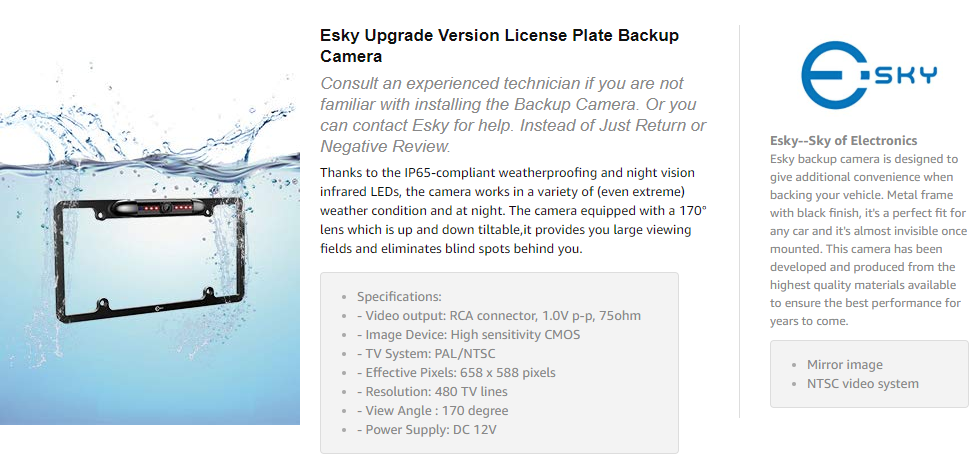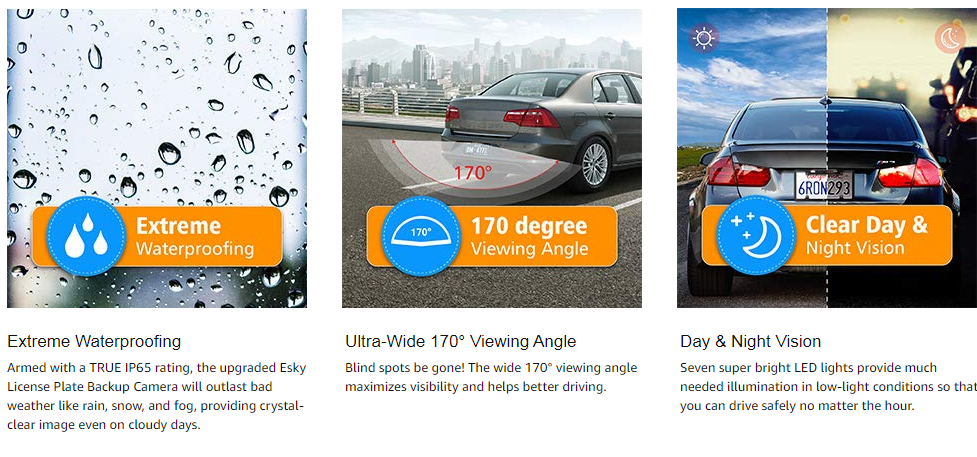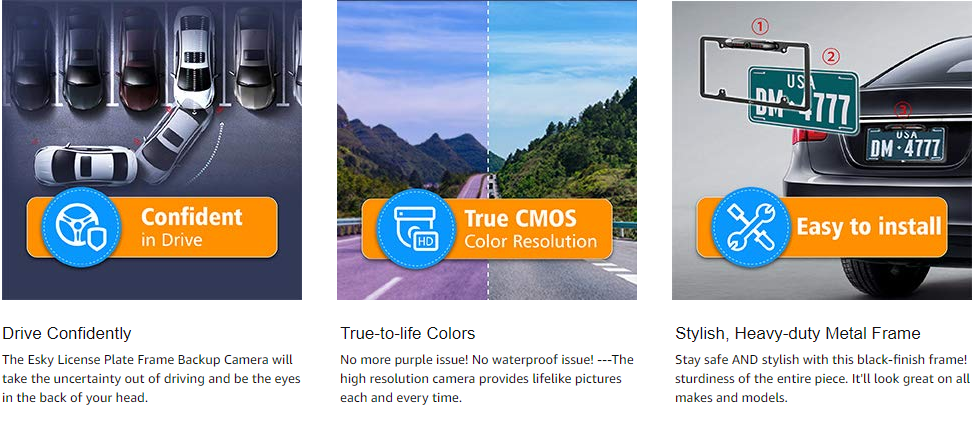 fast shipping..great item..love it...works in my car..it fits to my car..all of my friends will do the same..i recommend this item..

Does the job easy set up works as described looks goog.  Really like the convince when hooking up trailer for work

I installed this in my truck and it works very well. I have a Nissan Frontier with an extended cab and the wire that came with it was JUST long enough to make it to the monitor. If you have a crew cab or larger truck it may need an extension but it was just perfect for me. The picture is very clear.

Very Satisfied.

Exceeded my expectations,

I cannot believe how well this camera performs. The other thing I love about it is that looks much more stock than most other aftermarket cameras. It looks like it came with my car. You can't beat it for the price. The night performance of this camera is excellent. I rented a brand new 2013 Ford Edge Limited and the backup camera in that $38,000 vehicle cannot hold a candle to the Esky one. Needless to say....I Love It!!!

Bought the license plate model and got it professionally installed, pairing it with a 7" DVD in-dash player.
Daytime  view is good but why does grass on the green lawn appears blue !!
Can anyone confirm it ?
The guide-lines are also blue in color and serve their purpose., with a stop  sign written on the closest line.
The night-vision is great and lights up the whole driveway and the also the house across the street !
I guess the infra red lights are very powerful ! Sharpness depends on the resolution of the monitor and mine is adequate though not like HD.
Worked well in the heavy rain with no fogging.
Overall very good value for 36 $$.

Very nice camera for the price

I have a Edge CTS monitor in my truck and was a little concerned with this camera working with it. I figured for 40 bucks its worth the risk. The camera works great and a lot cheaper then the Edge camera. I was suprised how bright the little lights on it are at night, no problems hooking up to a trailer at night.

Frame is durable and video output is excellent

I have received and installed my back up camera  today. I am happy for their customer service because they have replaced my previous back up camera with no additional charge. The replacement is far better than the previous one. I am not recommending only the product but the company too because they really mean business.

Works as described, barely noticeable, plug and play ease of installation. Can't beat it for the money. A a a

Great design. Great Picture.

It was not mentioned in the specs that I read prior to purchase but it is a 16:9 aspect ratio camera. The same as wide screen TVs. I bought a 16:9 Monitor. They work great together. I tied the camera power to my reverse lights on one bulb. I removed the bulb, stripped about 3/8 of an inch off of the camera power wire pigtail, and dropped one bare lead in each hole of the bulb socket then reseated the bulb into its socket. This holds the wire securely without splicing into your wiring harness. It powers up instantly with full color saturation. No warm-up or 'settling in' time needed. The lines that are integral to the picture are at about 3, 6, 9 and 12 feet. Mine is on the back of a Ford E150 Van and it really helps me to accurately park to allow me to remove tools (3 feet) or my ladder (6 feet) without crowding a wall. It took about 2 hours to install. Much of that was wiring the video monitor to the fusebox.

The monitor I purchased was the TaoTronics® TT-CM04 7-inch TFT LCD Widescreen.

Amazon link: http://www.amazon.com/gp/product/B008EQQSXA/ref=cm_cr_ryp_prd_ttl_sol_8

Great product! Thanks Esky!

Great Camera for the Price!

Camera works as advertised.  The only negative I have is at night with my back-up lights on and the camera's IR active, the picture is washed out.  To be honest, i have some very bright LED back-up lights, so for most people this will not be a problem.
EAN: 6952848678801
Stylish heavy-duty chrome plated frame, perfect for all vehicles that use a standard US license plate, protect your plates from the elements while giving your vehicle a unique look

Aluminum Zinc material with IP-67 Standard waterproof & dust-proof level, high performance in all-weather condition, Never be foggy or wet inside the camera even in serious rainy day

170° viewing angle macro lens with mirror image give you a wide viewing vision, high sensitive color CMOS (PC1030) image sensor. Lens angle physically 45° adjustable on the camera

7 Bright LEDs night vision and excellent performance of 0lux at F2.0.High definition color CMOS image sensor. The picture is actually clear during full light and also very clear in total darkness

Built-in LEDs for Low Light Performance: With the black Photoresistor's control, the 7 bright LED lights turn on automatically when visibility is low.They'll cut through the darkness and provide maximum visibility
Specifications
- Sensing area: NTSC 4.08 x 3.10mm
- Effective Pixels: NTSC 510*496 pixels
- Horizontal Resolutions: 420 TV lines
- Minimum Illumination: 0lux with IR on
- Video output: RCA connector, 1.0V p-p, 75ohm
- Power Consumption: 60mA
- Power Supply: DC12V

Notes
- This camera has a mirror image.
- This camera only supports NTSC video system, so please make sure your monitor supports NTSC video system.
- During installation, please connect the power cable of the backup camera to the harness wires that connect to the backup light on the tail light assembly.
- (Please note that the red wire end is positive, while the black one is negative). And connect the RCA output end to the car monitor.
- The camera switch is controlled by the reverse gear shift.
- Please take care of the sealing to prevent water leakage when installation.

Package includes
- 1 x Esky Rear View Camera
- 1 x 3.5ft Power Cable
- 1 x 20ft RCA Video Cable
- 1 x User Manual

Seller Warranty
- 30-Day Money Back Guarantee
- 12 Month Replacement Warranty
- Lifetime Support Guarantee