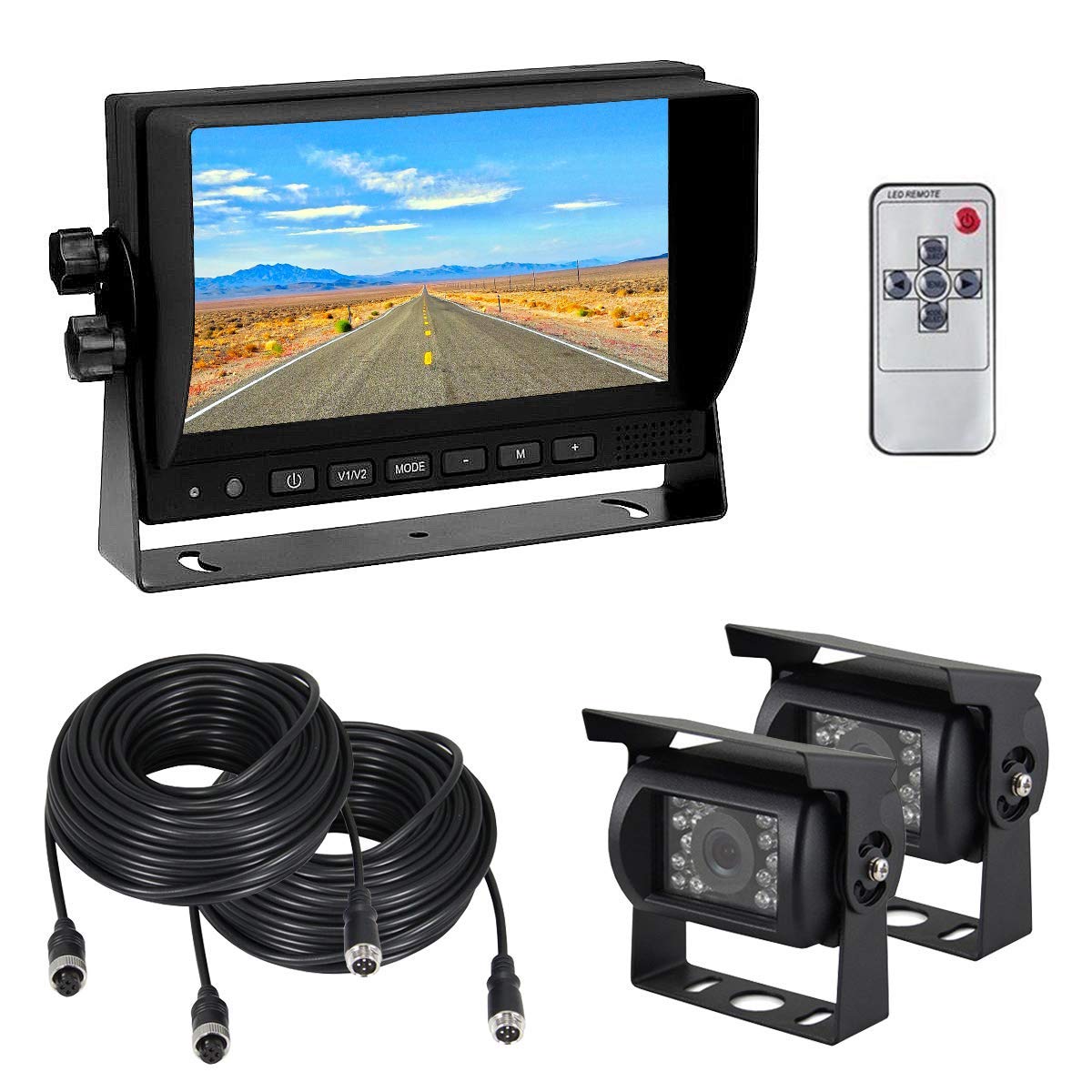 Backup Camera System Kit, Esky Dual Backup Cameras and 7" TFT LCD Monitor System Kit for BusTruckTrailerRVCampers Waterproof Night Vision Rear View Backing Parking Reversing Reverse Camera
$99.98
x
Backup Camera System Kit, Esky Dual Backup Cameras and 7" TFT LCD Monitor System Kit for BusTruckTrailerRVCampers Waterproof Night Vision Rear View Backing Parking Reversing Reverse Camera
for BusTruckTrailerRVCampers Waterproof Night Vision Rear View Backing Parking Reversing Reverse Camera
backup
cameras
monitor
system
EAN: 6970761014308
Bullets:
IP67 Waterproof IR LEDs HD Reverse Cameras:Based on IP67 Waterproof Level and CCD Sensor will present superior clear images even at rainy days. While the 18 IR LEDs will give low light compensation and ensure the vivid images during the night

7 inch Rearview Monitor and 2 Channel Video Input:7 Inch TFT LCD display monitor can directly attached to flat surface dashboard with provided adhesive foam and pedestal (pedestal can be removed), and the monitor also has capability to monitor two video inputs V1/V2. V2 video input will have priority (reverse camera) for safety, V1 inputs can add a additional front/side/reverse camera for better safety

Optional 3 image display ways:Optional 3 image display ways on the 7" TFT LCD screen to meet with your diversified requirements; it turns to blue screen when No Video Signal input. AV1/AV2 input, 800 x 480 RGB, 16:9 wide angle view, it comes with a remote controller for easy use

Backup camera kit with Parking Assistance: With the backup camera kit, it will show the parking image or parking guidelines when the reverse gear is engaged. More clear and easier to see the back with the sharp and rear image especially for the truck

Easy to install and use:System comes complete with a 66" cable with aircraft grade connections and all components necessary for installation. Video system: Auto NTSC/PAL. Very easy to install, in the Box Including Installation Guide, User Manual and All Install Kits as Well, No Need to Buy Extra Thing to Complete the Installation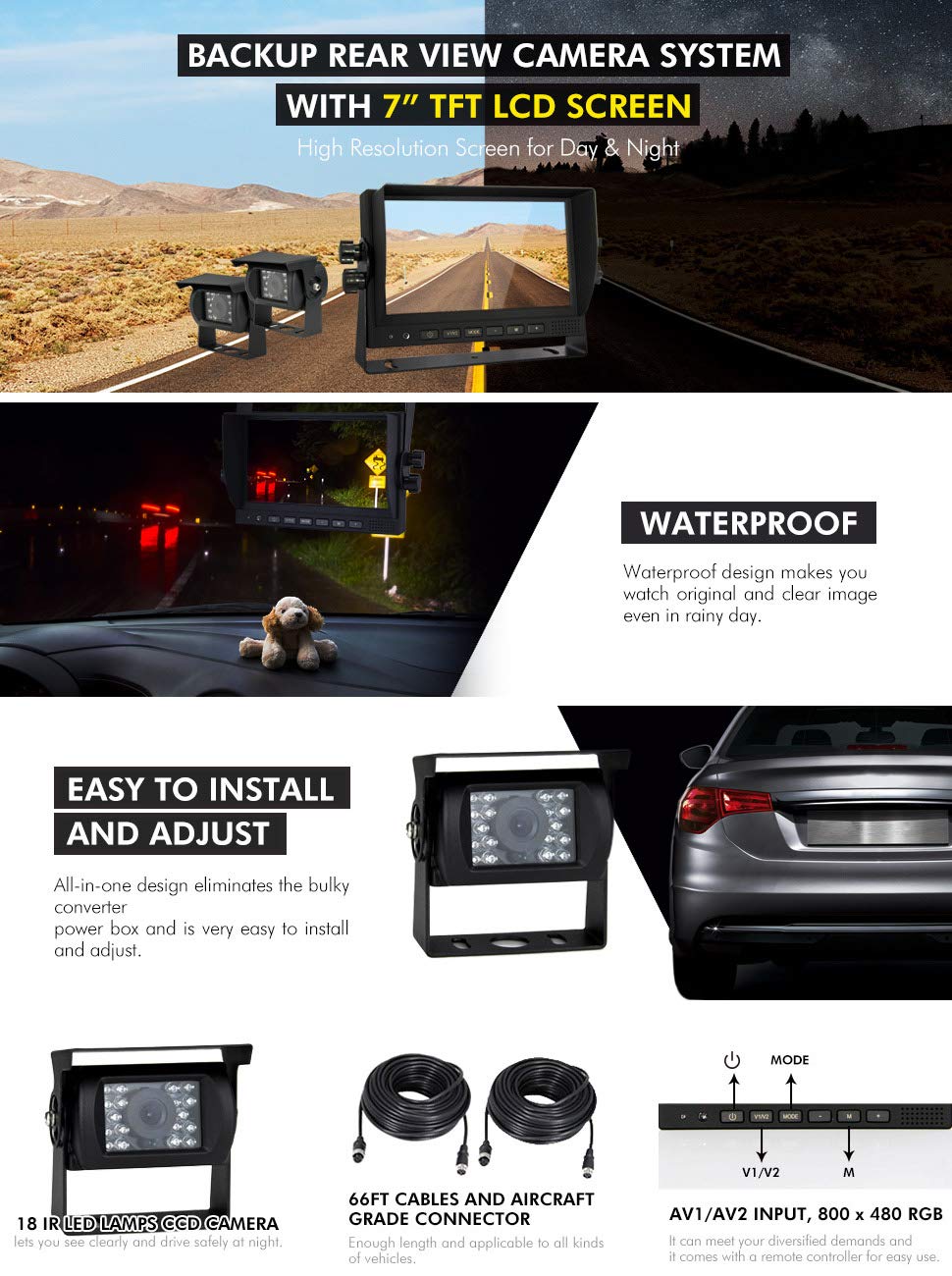 Esky- Sky of Electronics

This Esky Car Rearview System is perfectly fixed on the lorry, truck, bus, motorhome, harvester, yacht etc. to let you securely and safely monitor scenes and reverse your vehicles. Support two video inputs and high resolution image display. With this car system, you can fully enjoy your journey!

Features
- CCD camera with 3.8mm pinhole lens
- Built-in 18 IR LEDs for over 20ft night vision view
- Heavy-duty 20M (66ft) video + power cable with a waterproof aerospace-type connector
- Camera selection is done via remote controller or by pressing the button on the monitor
- All-in-one design eliminated the bulky converter power box and is very easy to setup
- Aerospace-type cinch connectors are used for all connections
- HD fast transmission; simple to install and use
Good seller

Reviewed in the United States on

Very pleased.

Reviewed in the United States on

Night vision not much but the day vision is quite good.

Reviewed in the United States on

Great high quality reversing camera system

Reviewed in the United States on

Very Nice Cameras.

Reviewed in the United States on

Solid Build and Quality Picture

Reviewed in the United States on

Dual Camera Rear View Monitor

Reviewed in the United States on

Four Stars

Reviewed in the United States on

Great product, good quality and service

Great product,  good quality and service.  Will buy from this seller again in the future.
Specifications
- 7" Color TFT LCD
- 800 x 480 x RGB pixels
- Screen ration: 16:9
- 2 channel AV inputs
- Video system: PAL/NTSC
- Power consumption: 7.5W
- Power supply: DC12V

Package List
- 2 x CCD cameras
- 1 x 7" TFT LCD monitor
- 1 x Mount
- 2 x 66ft cable
- 1 x Remote controller
- 1 x Power connection wire
- 2 x Screw kit
- 1 x User manual