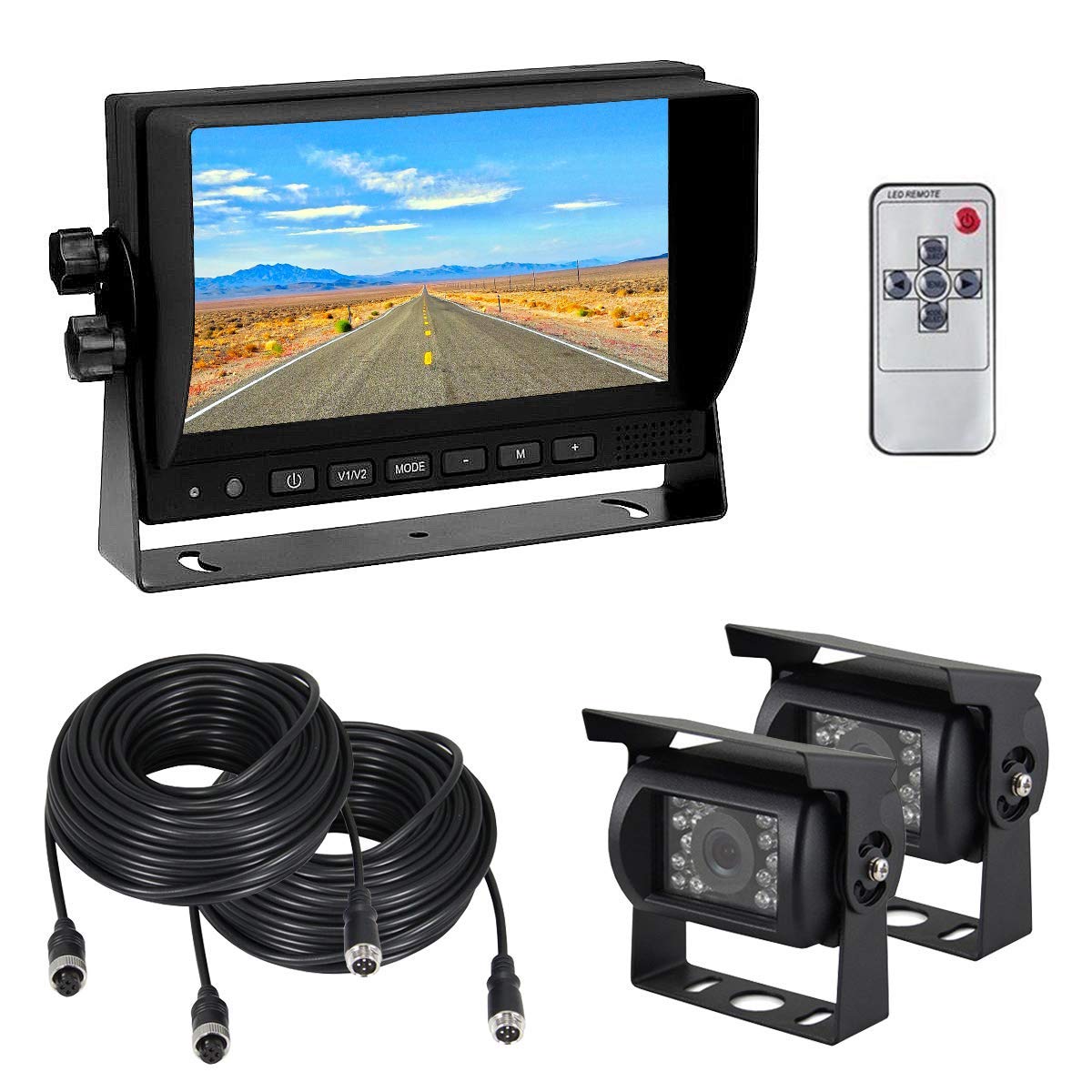 Backup Camera System Kit, Esky Dual Backup Cameras and 7" TFT LCD Monitor System Kit for BusTruckTrailerRVCampers Waterproof Night Vision Rear View Backing Parking Reversing Reverse Camera
$99.98
x
Backup Camera System Kit, Esky Dual Backup Cameras and 7" TFT LCD Monitor System Kit for BusTruckTrailerRVCampers Waterproof Night Vision Rear View Backing Parking Reversing Reverse Camera
for BusTruckTrailerRVCampers Waterproof Night Vision Rear View Backing Parking Reversing Reverse Camera
backup
cameras
monitor
system
EAN: 6970761014308
Bullets:
IP67 Waterproof IR LEDs HD Reverse Cameras:Based on IP67 Waterproof Level and CCD Sensor will present superior clear images even at rainy days. While the 18 IR LEDs will give low light compensation and ensure the vivid images during the night

7 inch Rearview Monitor and 2 Channel Video Input:7 Inch TFT LCD display monitor can directly attached to flat surface dashboard with provided adhesive foam and pedestal (pedestal can be removed), and the monitor also has capability to monitor two video inputs V1/V2. V2 video input will have priority (reverse camera) for safety, V1 inputs can add a additional front/side/reverse camera for better safety

Optional 3 image display ways:Optional 3 image display ways on the 7" TFT LCD screen to meet with your diversified requirements; it turns to blue screen when No Video Signal input. AV1/AV2 input, 800 x 480 RGB, 16:9 wide angle view, it comes with a remote controller for easy use

Backup camera kit with Parking Assistance: With the backup camera kit, it will show the parking image or parking guidelines when the reverse gear is engaged. More clear and easier to see the back with the sharp and rear image especially for the truck

Easy to install and use:System comes complete with a 66" cable with aircraft grade connections and all components necessary for installation. Video system: Auto NTSC/PAL. Very easy to install, in the Box Including Installation Guide, User Manual and All Install Kits as Well, No Need to Buy Extra Thing to Complete the Installation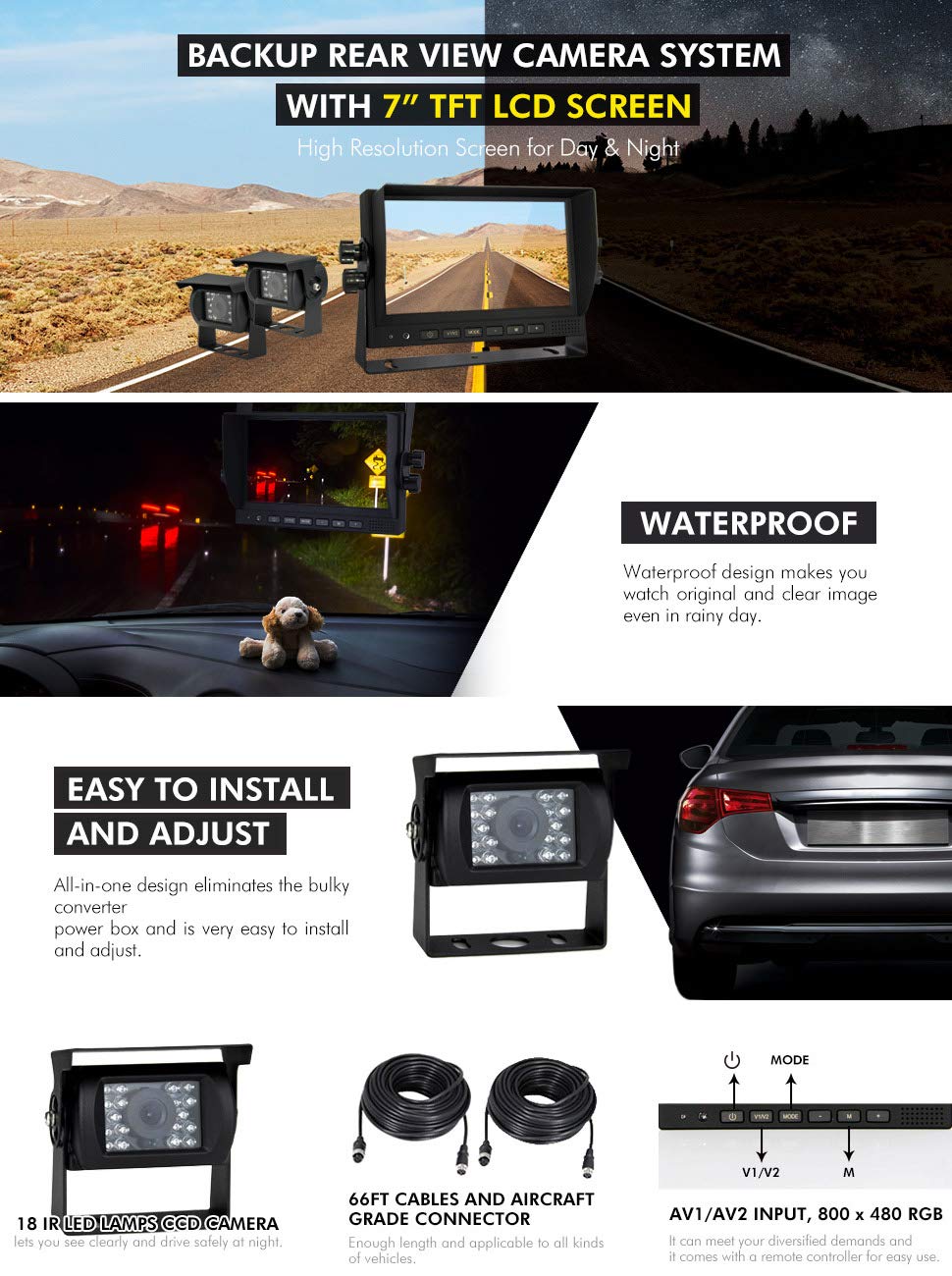 Esky- Sky of Electronics

This Esky Car Rearview System is perfectly fixed on the lorry, truck, bus, motorhome, harvester, yacht etc. to let you securely and safely monitor scenes and reverse your vehicles. Support two video inputs and high resolution image display. With this car system, you can fully enjoy your journey!

Features
- CCD camera with 3.8mm pinhole lens
- Built-in 18 IR LEDs for over 20ft night vision view
- Heavy-duty 20M (66ft) video + power cable with a waterproof aerospace-type connector
- Camera selection is done via remote controller or by pressing the button on the monitor
- All-in-one design eliminated the bulky converter power box and is very easy to setup
- Aerospace-type cinch connectors are used for all connections
- HD fast transmission; simple to install and use
Great product, good quality and service

Great product,  good quality and service.  Will buy from this seller again in the future.

Perfect fit on a Polaris Slingshot dash cutout. Makes for an easier view with a back camera

Good quality, nice image.

Night vision not much but the day vision is quite good.

I'm happy with the daylight operation, however the night operation is almost nonexistent, even though the sales propaganda talks about the infrared lighting in the camera?  At night I can see the red lights in the camera and I can see that they do project some light as I tested the second camera by putting my hand In front of the camera in a dark room and could see my hand out to about 3', not much use in the backup camera operation.  Also I wired the system on a full time hot wire thinking, as my old system did, when I turned off the monitor it would turn off the entire system....NOT!  The infarred lights In the camera stay on even when the monitor is off using battery power all the time.  Admittedly not how the instructions recommended it be wired.  The instructions wanted it wired to an ignition wire so only on when ignition was on, I wanted to use the system at anytime like my old system and would just turn the monitor off when not in use but this system doesn't work like that.  Customer service was good as the remote didn't work when I got the system and I called them and they sent me a new remote right away.

Great high quality reversing camera system

Great high quality reversing camera system! This system actually uses two cameras, one for more of a close up view, and the other provides more of a broader view. Using the LCD screen, you can choose either of the camera views or having both on at the same time. The cameras work well at night time too. Perfect for lining up your towball with a trailer, backing into parking spaces, or making sure nobody and nothing is behind you when reversing. Totally recommend!

This is a perfect camera for my Ford F150 for towing my boat.  I would highly recommend this camera system for any vehicles, boat, trailer. It comes with 2 cameras with a 7" LCD screen that you can can view both camera at the same time. You can also have the option to install one camera or both cameras. The LCD monitor comes with the picture and picture LCD screen. The cameras has sun visor design with clear image without sunshine.  This camera is versatile for trucks, cars, RV and for towing vehicles. It comes with easy instruction, installation, and mounting. You can mount the cameras in the back of the any vehicles. Be aware if you have a long trailer, you might need extra cables to put cameras on a trailer. I wish this camera was a plug and play that way I can use it between my boat and truck.  The camera will be perfect to use on my boat for water skiing.

I will update the review in a few months in regards to the durability of this camera.

Solid Build and Quality Picture

Excellent quality and very well thought out. I have always steered clear of after-market rear view camera systems since the installation is such a pain. This has been well thought out as the cords connect extremely easily and are of very high quality (plus the cords are already sheathed. You can get all the specs in the details, so for my review I wanted to just focus on the feel. The stand is quality metal and comes with a visor to block out sunlight so the screen is more visible. The rear-view cameras are very strong and durable. Out of everything only the power connection was the hardest for me. I'm still installing it but have found it to be quite good.

NOTES: I did not receive any installation instructions. This is most likely because it is impossible to provide all the types of vehicles it could be installed into and having a guide for each one is not feasible. The other thing about this is the cameras are quite large, like the size of an apple. Where I live I can't just have something like that sticking out of my bumper or it will be stolen within a week. I am trying to attach it to the back window but still not having luck. I think these would be best used on large trucks, trailers, or even modified to be used somewhere else.

I love the quality and ability of these 2 cameras, and just need to figure out the right configuration.

Dual Camera Rear View Monitor

This seems like a good quality system that will provide an extra measure of visibility and safety for any vehicle, especially one that has limited back views, such as an RV.  The components of this system seem to be of good quality that will stand up to daily use and be durable for a good length of time.  The monitor is large enough to see clearly, but could be installed somewhere in any vehicle without hindering front visibility.  The snap-on visor for the monitor and built-in visors on the cameras help to avoid glare and ensure a clear picture in any lighting.  The included cords are 66 feet each, and connect each of the two cameras to the power box.  The power box is the only potential drawback to this system as it requires a knowledge of your vehicle's electrical system to install it.  The power box has three wires (red, green, and black - see photos) that must be connected directly to vehicle power.  If you can do this, you're good to go; if not, you'll need to have a professional install it - and then you'll be good to go!

** I received this product free of charge in exchange for my honest and unbiased review.

Help a great deal when towing enclosed car trailer.  Easy enough to rig up on trailer and to set up to use when towing the trailer.
Specifications
- 7" Color TFT LCD
- 800 x 480 x RGB pixels
- Screen ration: 16:9
- 2 channel AV inputs
- Video system: PAL/NTSC
- Power consumption: 7.5W
- Power supply: DC12V

Package List
- 2 x CCD cameras
- 1 x 7" TFT LCD monitor
- 1 x Mount
- 2 x 66ft cable
- 1 x Remote controller
- 1 x Power connection wire
- 2 x Screw kit
- 1 x User manual