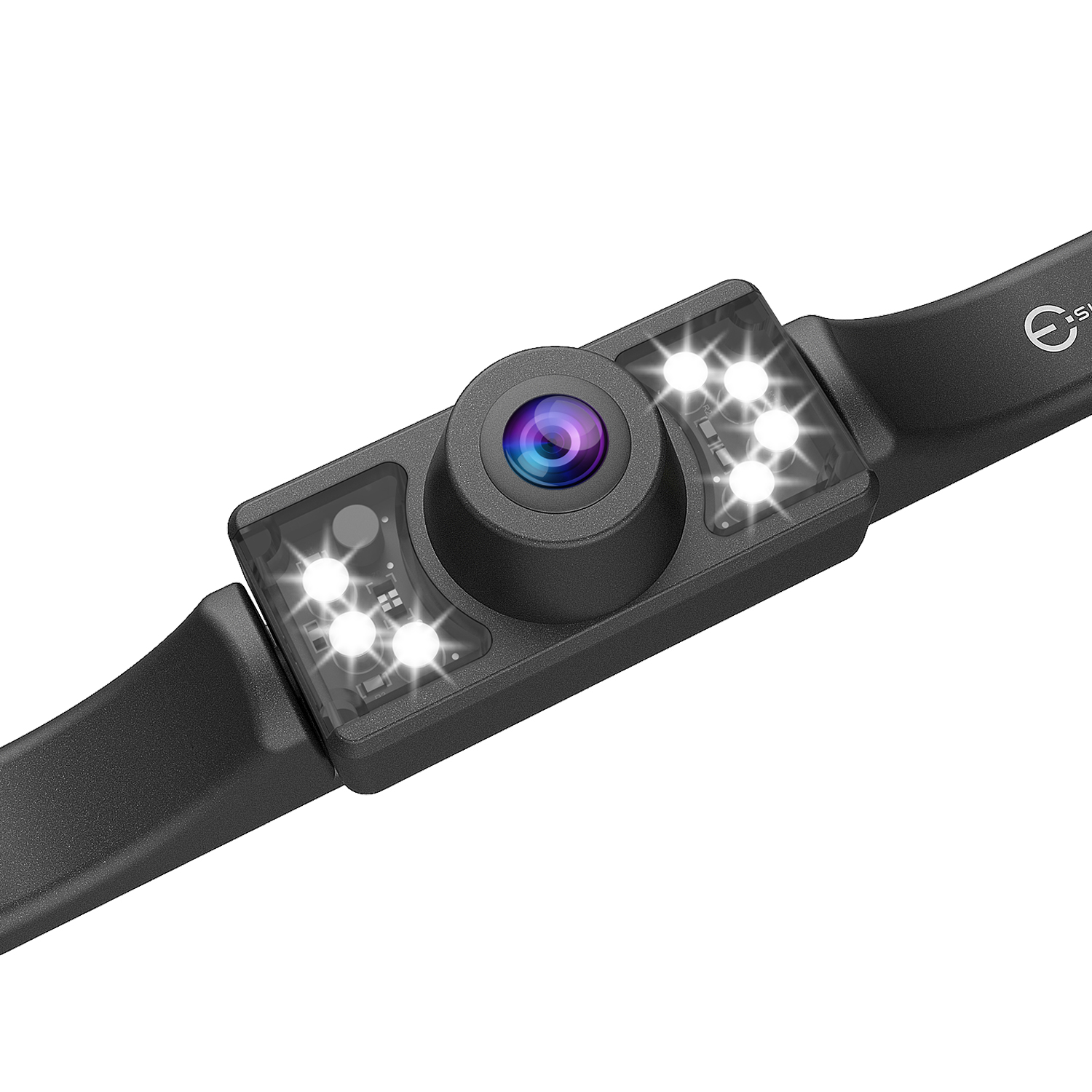 Vehicle Backup Camera, Esky Rear View Camera Waterproof High Definition Color Wide Viewing Angle License Plate Car Camera with 7 Bright LED Night Vision (Monitor Not Include)
$19.98
x
Vehicle Backup Camera, Esky Rear View Camera Waterproof High Definition Color Wide Viewing Angle License Plate Car Camera with 7 Bright LED Night Vision (Monitor Not Include)
Clear Day & Night Vision: This Esky backup system boosts 7 super-bright white LEDs which will expel darkness and provide maximum visibility for all-day clear visibility. Better yet, the upgraded highly sensitive light sensor turns the lights on automatically in low-light areas and off automatically in well-lit areas.

Amazing Imagining Effect: No more color bias in darkness – this reverse camera is armed with an upgraded light sensor and 1/3 inch color CMOS image sensor which will provide you high-definition, high-resolution and lifelike images both day and night

IP68 Waterproof & Fog Resistant: Thanks to the sturdy and tightly construction, this Esky license plate backup camera is entirely waterproof and will never fog up after a carwash or on a rainy day, ensuring that you can drive with ease in any weather condition.

170º Wide Viewing Angle: The wider the field of vision, the smaller the blind spots. The Esky 7-LED Vehicle Backup Camera picks up the slack with a wide 170° view field, eliminating blind spots once and for all. A 45° adjustment angle adds increased visibility, allowing you to adjust the camera to a position that's best for you.


Easy to Install: The rear view camera system is very easy to install, with no drilling necessary: just mount on your license plate and you're ready to go. The heavy-duty metal frame with stylish black-finish surface will look great on all vehicle models.
Quality

Reviewed in the United States on

Nice

Reviewed in the United States on

It's a Great starter camera.

Reviewed in the United States on

It fogs up when cold out

Reviewed in the United States on

Great camera

Reviewed in the United States on

Pleased with product and customer service

Reviewed in the United States on

Good

Reviewed in the United States on

Works great

Reviewed in the United States on

Great Value, works well, easy to install

Reviewed in the United States on

This Camera came with "Just Enough Hardware", so that i could install it in my "2002 Yukon XL". If i would have ran the cable(Video/yellow/about 20') from the head unit to the left or right side, of the vehicle then continue to run the cable to the back of the truck, i would have needed a male to female, extension for the Video Cable. Which would have cost more money, yet glad i didn't need the extension cable

  While installing the Camera, I didnt want to tap into any existing stock vehicle wiring, so since i had an amplifier that was being used for my audio, I just ran the " 12 Volt/ Red Wire/+", to the remote terminal/wire(usually blue wire on amp.), and the "Ground Wire from Camera/black/-", to the Ground terminal of the amp.  That worked out well and kept me from having to tap into vehicle wiring.  If u do not have an amp like i do, then u may need extension wires for the power supply to the camera as well.

  Mounting the Camera; instead of using the tag bolts, and mount the Camera to my Vehicle Tag, there is a nice little spot directly up under the lift gate where the camera fits like it was made to fit there when they made the vehicle. I used an all adehesive tape that had velcro on the other side, which allowed me to not drill holes. Also i noticed Fog setting in where the LED's were as i were mounting the camera. May need to seal Socal Waterproof Cam. (-1 star)

  Installation; was simple. Make sure that you have a reciever that has RV(Rear View) input/video.  If u do not have a Head Unit/Radio/ Reciever, then u will need to purchase one separately or just get a monitor for the rear view camera, that will sit up front with you somewhere.  Overall, did not have to drill holes, ran video cable right out of the back liftgate, installation was very easy, took less than 20 mins to install.

  Vehicle; if u have a vehicle shorter than a " 2002 Yukon XL", then the Video cable should be plenty long
  Picture Quality is plenty good for a Reverse/Backup Camera.  Wont see other Cars Tags unless they are up on u pretty good. Has green yellow and red lines to indicate distance of objects behind u. You must gage for yourself to know the exact distance each color represents, by trial.
I would highly recommend this product, for the price i paid ($9.00) I luv amazon.com and those who sell product through them.
Specifications

-- Image device: 1/4 Inch Color CMOS
-- TV system: NTSC
-- Effective pixels: 628 X 586 pixels/510 x 496 Pixels
-- Resolution: 420 TV lines
-- Power supply: DC 12V