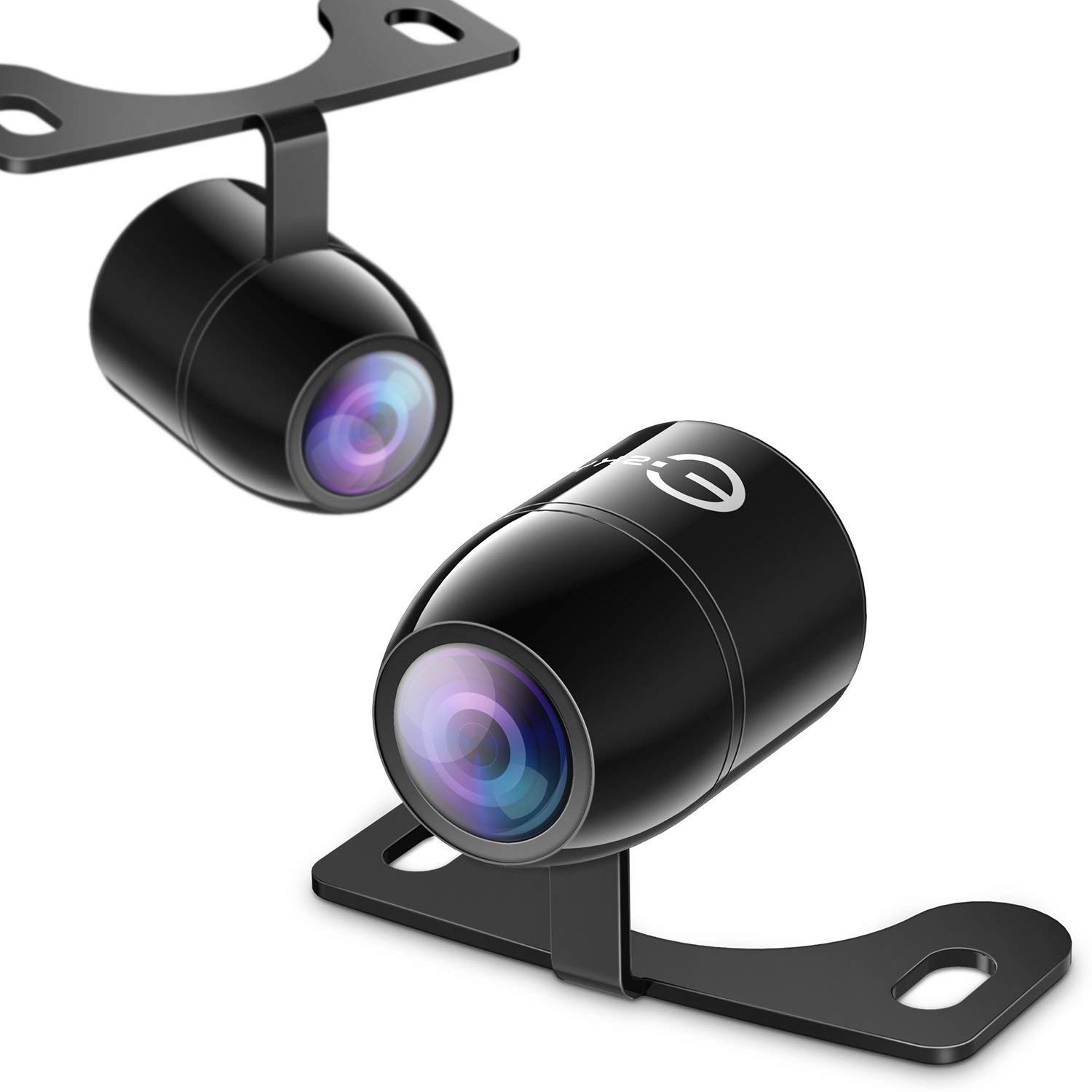 Backup Camera, Esky Car Rear View Reversing Mini Camera With 170 Degree Perfect View Angle Design HD Color CCD Waterproof Universal Car Backing Camera(Guideline Version)
$19.98
x
Backup Camera, Esky Car Rear View Reversing Mini Camera With 170 Degree Perfect View Angle Design HD Color CCD Waterproof Universal Car Backing Camera(Guideline Version)
For All Vehicles: Rear view camera has a universal fit so it can be perfect for all kinds of vehicles. The camera is also very easy to set up and it is suitable for cars, RVs, trucks, SUVs and more

Reversing Camera Kit for Safe Parking: Backup cameras help prevent tragic back-over accidents, in which a driver doesn't see a person behind the car.BUILT-IN GUIDELINE helps you more confidence when parking

Wide Visual Angle Lens:170 degree visible range works great with the blind spot. built in night sensor, clear view even at night

Easy to install: Professional exterior waterproof car backup camera. It's simple and easy to install and operate, you'll love how it makes reversing and backing up easier every single time

Reliable and friendly customer service: ready to respond within a 24 hour time frame and Lifetime Support
The product is very small, so it was very easy to mount it virtually anywhere on the back. Resolution is a little fuzzy, but certainly gets the job done - I am very happy with the quality at night!

The main reason I bought this was because I didn't like having a big camera mounted to my license plate, and now that it's installed, I'm very happy with my decision.

Works like it's supposed to. The low-light capability and quality are great! I was not happy with the "guidelines" that indicate distance. Some don't mind the lines, but I thought it interfered with my view as I wanted a clear picture. There is no way to remove the lines, so I requested a replacement without the guidelines. Customer service was excellet. I would definitely recommend this product and the seller.

one of the best cam i ever had nice small package delivered very fast & so small it you cant c it that much from the back of the car which is awesome

Only have had for a short time so can't give a full review.

This camera replaces one that became foggy even when it said waterproof. This new one also said waterproof and I will see if it also fogs. I should know as it hasn't stopped snowing for days.

Havent installed it yet
just feel positive ....that its gonna do whats supposed to do !!
Im kinda of excited. ......

I'm getting an excellent picture to my Pioneer AVHX8500BHS. I have to say, I was disappointed with the wiring that was supplied. The video cable does not have the power wire run along with it to provide the signal to the head unit. Also the video cable needed to be about 2 feet longer. I wanted to mount the camera in the tailgate of my F150 but the wire was not long enough. I wound up mounting it above my license plate instead. It is small and unnoticeable but it would be better protected in my tailgate handle. I think it would be very hard to find a better camera though.

A good camera for the price

Since I was installing a navigation deck in my 1995 Corvette, "while I was at it", I installed a rear view camera. This was a necessity in my last car, a late model Challenger due to limited visibility. Admittedly it's more of a gadget for the Corvette. Since the price was so low, I picked up both guideline and no guideline models. This review is for the smallest guideline model.

As other reviewers have found, the view is not 170 degrees. I have my camera mounted above the license plate which is in a cove, but the camera lens is flush with the outside of the cove, so there is no obstruction. It activates & is powered from the nearby reverse lamp socket.

I found the angle needed to be adjusted down considerably. Once properly aligned, the guidelines when tested would allow me about 1.5 feet to the bumper for green, under a foot for yellow, and a couple of inches for red, so they work well.

The picture is a little grainy at night, but that is to be expected for a non-IR camera. During the daytime, the picture quality is good. My 7" screen resolution is 800x480.

The camera has not been exposed to rain, so I cannot advise on the waterproof aspect.

I would suggest this model or the non-guideline model for anyone looking for a decent inexpensive camera.

Good clear picture, was easy to install and set up. Works well so far. Has guide lines to assist with backing

Very clear and small I can hid it , good buy, great cameras.  I would buy it again too.  Wired very Easley.

Great for the price, a PITA to align.

Finally got this installed.  Mount is more than a little flimsy, image is good enough.  Grainy in low light, but adequate for its intended purpose.

Not easy to properly orient it, since no apparent marking for what should be up/down.  Still, got it done.
Specification
- Image device: Hi-definition Color CCD
- TV system: NTSC
- Effective pixels: 628 X 586 pixels/510 x 496 Pixels
- Resolution: 420 TV lines
- Lens Angle: 170 degree
- Power supply: DC 12V

Package Included
- 1 x Esky Car Rear View Camera
- 1 x DC power cable
- 1 x AV cable (19 ft)

Seller Warranty
- 30-Day Money Back Guarantee
- 12 Month Replacement Warranty
- Lifetime Support Guarantee