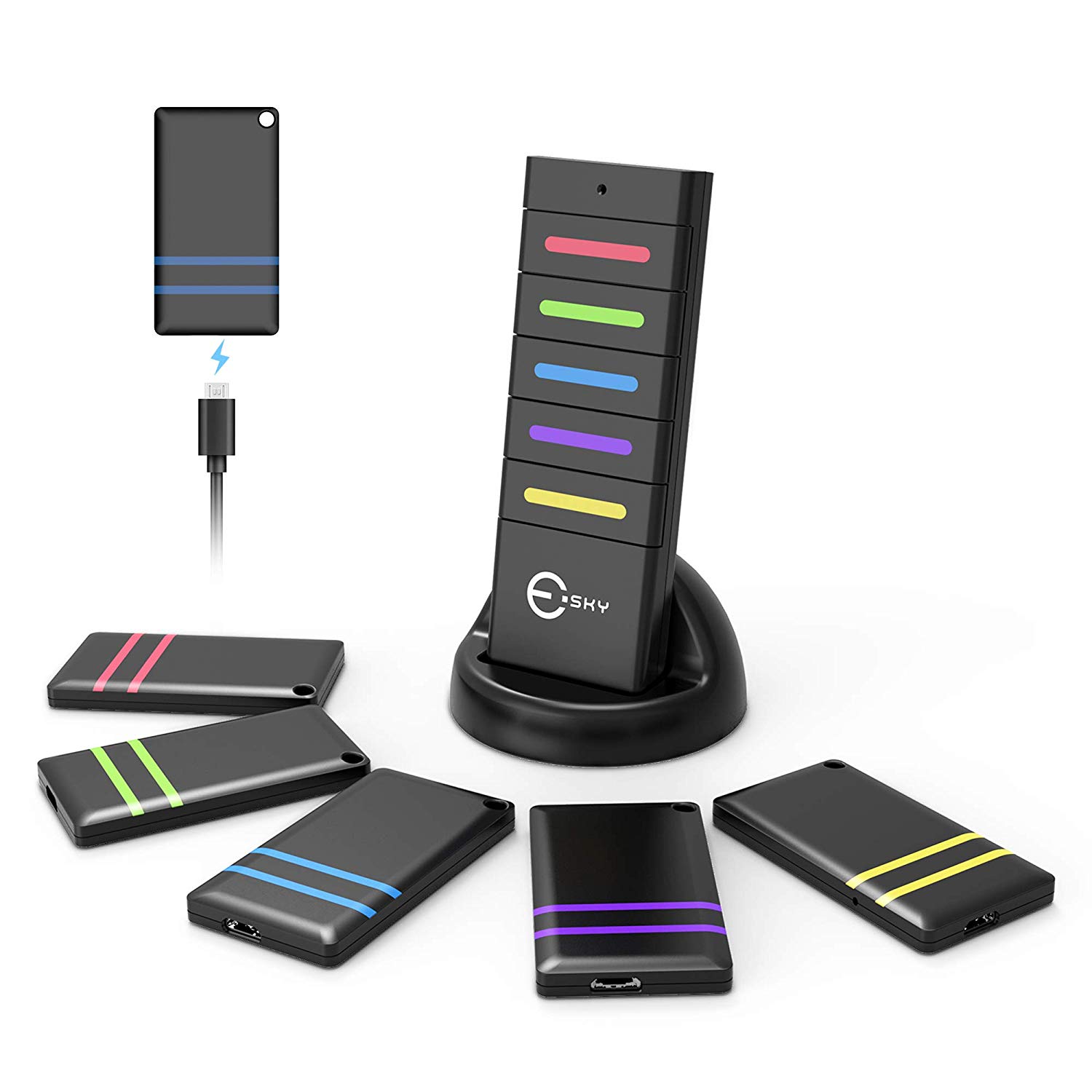 Esky Wireless RF Item Locator Key Finder
$26.99
x
Esky Wireless RF Item Locator Key Finder
with Remote Control, 1 RF Transmitter and 5 Rechargeable Receivers, Black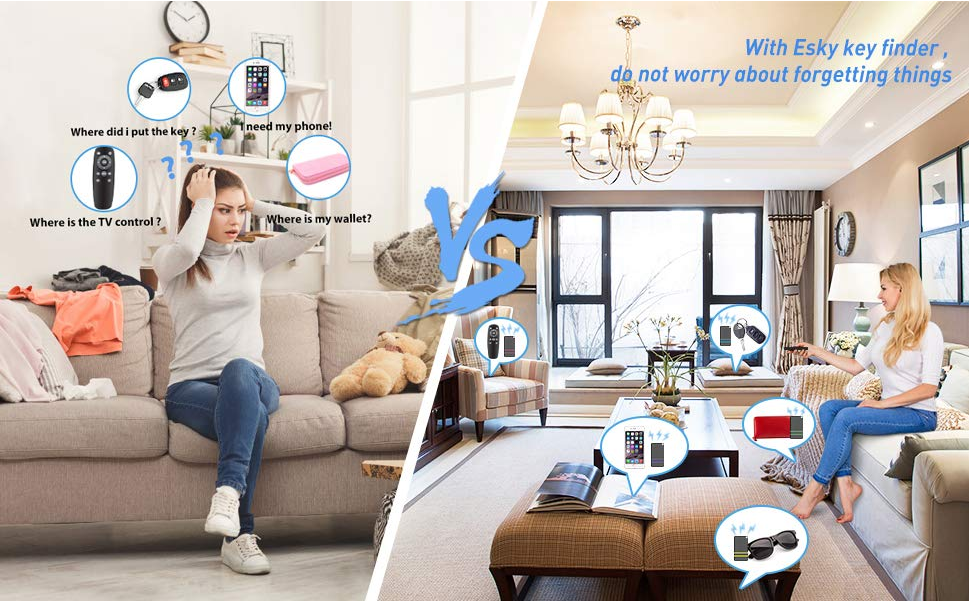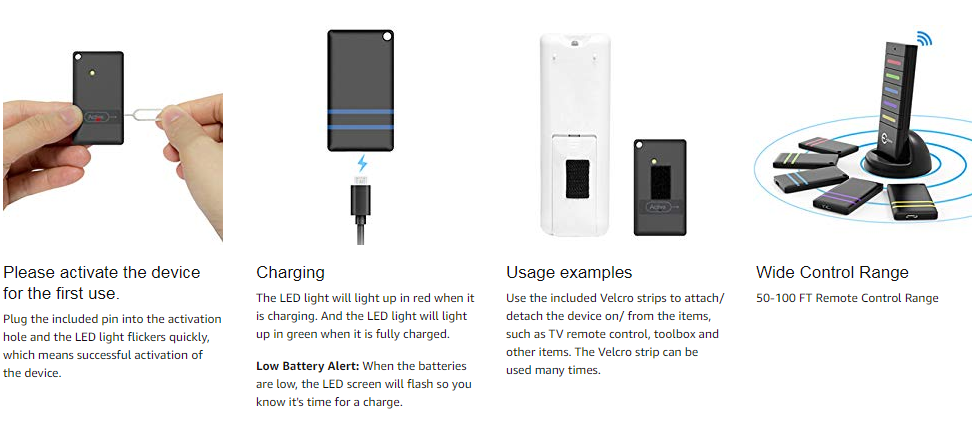 Esky Wireless RF Item Locator Key Finder with Remote Control, 1 RF Transmitter and 5 Rechargeable Receivers
When you're rushing around in the morning, the last thing you need is to waste time looking for your keys. With the Esky Key Finders, you'll never run late again! These amazing little devices attach to your keys, mobile phone, wallet, luggage, purses and other valuables so that you can find them in an instant. Each tracker is a different color - just press the tracker's corresponding color on the transmitter to find what you're looking for! The transmitter's radio frequency can penetrate through walls and doors, helping you find items from 50 ft away indoors and 100 ft away outdoors. You'll hear a beep when the item is nearby. Thanks to the USB charging feature, charging your key tracker is easy-peasy. Ten minutes is all it takes for 3 months of battery life. Better still, a low battery alarm will alert you when your trackers are due for a charge. Make your life easier with Esky!
Fantastic!! Works great as intended ,saves alot of aggravation and time

Plenty loud, small, likely to change my life.


 Quick charging, and loud response. I just received this today. The lack of reviews worried me until I saw that this was a new item. One for my keys, and I have no use now for the others but I'll get creative. Nice to have, at the least, 4 back ups. I'll update if I have any issues but as of now I can't imagine a better investment for a guy who loses everything on a regular basis. I might buy another set and hook one up to the base remote....

Rechargeable batteries a big plus. Wish it could use more than one remote.

I love this! I have one in my wallet, one on my keychain, one on my dogs collar one on my cell phone and one on my TV remote. I really wish I could get a second remote for when I go out (keys wallet, dog, phone) but after I inquired I was told it was not possible so, I take the remote with me. I lost my keys once and could not find them anywhere! They had slid way , way down deep in the crevice next to my car seat (not even visible) . I went to my car with the remote and hit the button and beep! But finding the beep required me to keep pressing and, tada I found them! Without the remote I don't think I would have! It's already paid for itself!!

Mom is kind of forgetful sometimes, so she asked if I could buy her something like this. I set it up for her, pretty easy, just charge the receivers and connect it and you're done. I like that they are rechargeable, that was the main feature I wanted. The price was also pretty great, I'm sure the price will go up as this gets more popular but so far, the price is worth it.

Works well . No Problems  very convenient to do rechargeable

The best remote finder ever!

Finally these little ba$t@Rd$- TV remote controls are never going to get lost! Yay! This key finder works great, battery is replacable and the whole concept is super simple! First I rushed and ordered Tile, then read the reviews.. oh, boy.. after one year those expensive little guys go dead and the company offers to repurchase them at a fantastic discount! What a rip off... so back to this little life saver. The beep is super loud if the key finder piece does not lie down right on its belly and the speaker hole is not obstructed. The stickers provided are not good and not going to last. But it does not bother me. When the original stickers fall off, I am going to use my double sided 3M tape that I bought at an auto parts store. I also attached the key finder pieces to the remote with a string for extra loss protection(see photos attached). I just wish the key finders were smaller. Other than that, I love it!

I bought this to track my cat, more as a supplement to another GPS based tracker device (Whistle) actually.  Two things happened.  First, it's much easier to find him (the cat) with this - it works over 20-30 feet just fine.  Also, the cat kinda got used to it and learned that when it beeps, it's time to go back home and he just walks back most of the time.  So that's a huge plus too :)

Easy setup and works well

Surprisingly easy to charge and set up. It works like a charm, although it would be nice if the tiles were a little smaller.

My husband lost his keys within a week, so after looking in every obvious place, he tried the key finder. It worked! His keys slid down the side of his recliner and were easily retrieved! It would be nice if it were a little louder, but works fine and worth the money.
Specifications:
- Receiver size: 2.1x1.2x0.18in
- Frequency: 433.92 MHz
- Sound volume: 85-90 dB
- Working range: 50-100 feet(open space)
- Battery: 1 X CR2032 Batteries (for remote , included)
-Receivers charging port: DC 5V Micro USB
-Housing material: ABS
Package Content:
- 1 x Esky Transmitter (1 stand included)
- 5 x Esky Receivers
- 5 x Esky Key Ring
- 5 x Hook & Loop Tapes
- 1 x CR2032 batteries
- 1 x Pin
- 1 x USB Cable
- 1 x User Manual