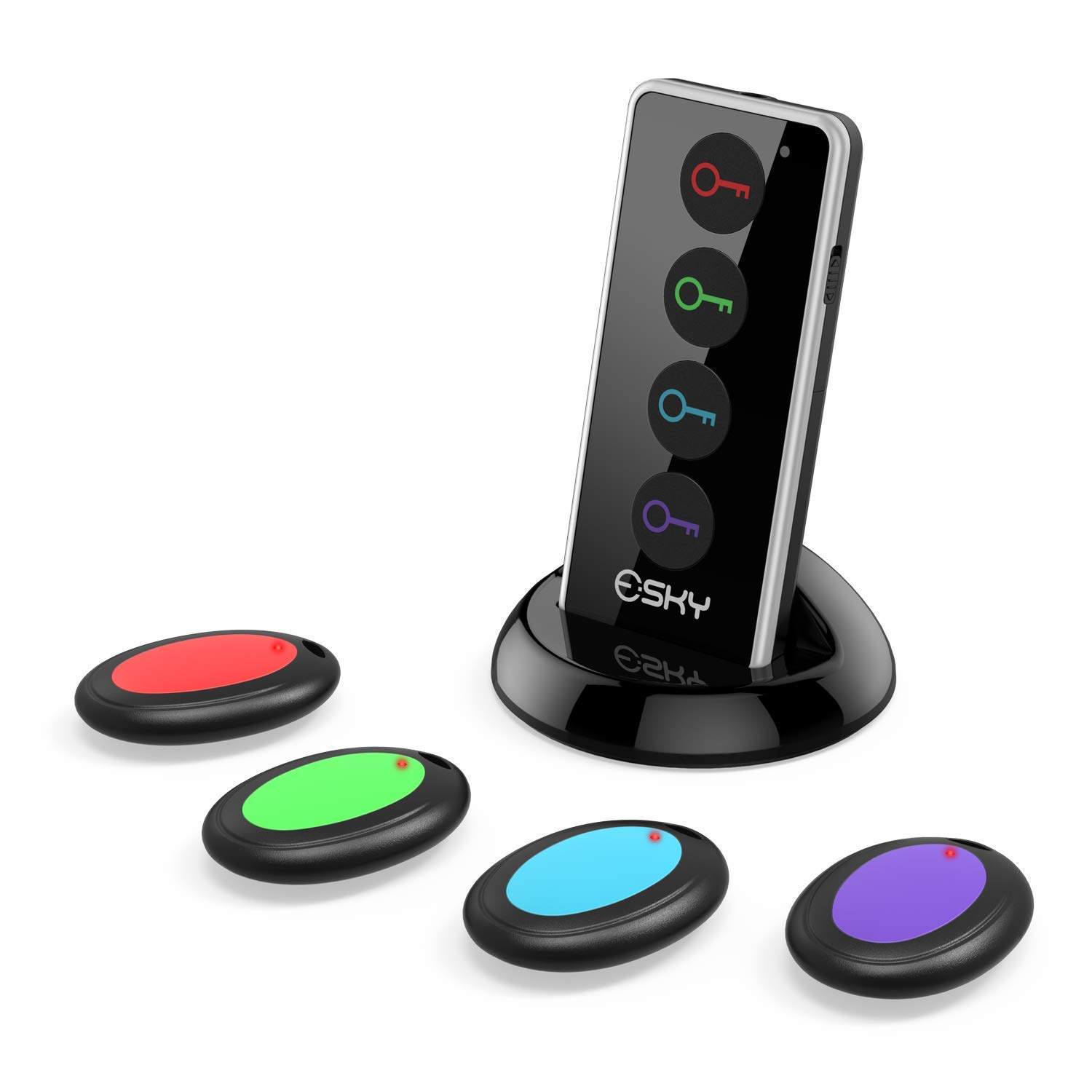 Key Finder, Esky Wireless RF Item Locator Item
$24.99
x
Key Finder, Esky Wireless RF Item Locator Item
Tracker Support Remote Control,1 RF Transmitter and 4 Receivers - Wireless Key RF Locator, Pet Tracker Wallet Tracker
JOIN THE MILLIONS OF TRUSTED ESKY USERS AROUND THE WORLD

4 KEY FINDERS: attach the receives to any 4 items and simply press the color-coded buttons to locate them. Easy to use and operate

SOUND & LIGHT: receiver sounds/beeps, leading you to your lost item. The remote control is equipped with a light for better night visibility when locating the buttons

POWERFUL, UP TO 30 METERS: Radio frequency can penetrate through walls, floors, cushions, leather, etc to help find your item up to 30 meters away

RELIABLE AND FRIENDLY CUSTOMER SERVICE: Ready to respond within 24 hours and lifetime support
Love having this on my key ring!  It's easy to use and works well. When you need to find something you just push the button on the transmitter and the receiver beeps and blinks red. The transmitter can be carried around with you, and also has a flashlight that comes in handy. The transmitter needs 2 AAA batteries that are not included. The batteries for the receivers are included.
I did not have much luck with the sticky dots that were included, but I did put one of the recievers on our TV remote. These are really useful at my house. (I have a small child that likes to hide stuff from me.)

Unexpectedly simple and useful! Perfect for locating misplaced items around the house.

First, I was provided a sample unit to review, and it turned out to be a big hit in my household!  This item locator is a perfect solution for finding lost keys, or a variety of other items around the house.  The individual FOB's are well made and color-coded to match the master unit button to the individual FOB's.  I was able to give each person in my household their own FOB (they picked their favorite color...thankfully no fights) and we keep the main unit on the kitchen counter.  It's been a great addition, and it will sure come in handy when items are lost.

The FOB's can be attached either via a key ring (4 spiral clips included) or stuck to an item using a two-sided self-adhesive dot (4 provided) for items that don't have a way to use the spiral clip such as a remote control.  The FOB's are a bit bulky to attach with the adhesive, but at least it's an option if you need it.  The device also comes with 4 CR2032 batteries for the FOB's, which should last for quite some time, but you'll need to provide your own pair of AAA batteries for the transmitter.

The range has been quite satisfactory.  My 4 bedroom, 2 bath single story home is within range even from the farthest points.  The sound is obviously harder to hear at a greater distance, but let's face it, if you're looking for a lost item you're going to be wandering around the place and unless the item is buried under an entire pile of laundry you'll be able to hear it a room or two away as long as you don't have your TV or music blaring.

The item also includes a built-in LED flashlight on the transmitter unit if you're searching at night.  It's not bright enough to be a primary flashlight, but for simply looking for a lost item, it's more than adequate.

While I haven't lost my keys in the short time I've had this unit, both my GF and I are glad that we no longer have to worry about her son misplacing his house key and having to go on a 30 minute search for them before school.  This item locator will save us countless frustrating hours searching for lost items in the future.  Well worth the modest price!

Works Pretty Well, Helps you Find Stuff!

I got a great real world test of the ESKY Item locator today. I was trying to locate my wife's keys. Luckily I had hooked the purple FOB to her keys over the weekend. The setup process was simple as the colors were already assigned to their respective keys. All I had to do was to open each FOB and put the provided battery in. To locate a FOB you just hit the button and the FOB beeps for about 5-6 seconds and the red light blinks. To locate my wife's keys I went into different parts of the house and hit the button. I finally heard it in the garage but couldn't figure out where it was. Luckily my wife came to help and we found one of the kids had put her keys in a winter boot. This muffled the sound quite a bit. The range was fine, but I wish the beeping was louder and the lights were brighter.

This item really helps! I have the habit of losing my keys, work ID and really everything else small. good range (no loss at 2700 sq ft of house.) the remote is mobile, the beeps are loud and the fobs come with both sticky pads and keychains for a few options to mount. I would recommend anyone who cant be late to work buy these.

2 VERY small complaints. 1 the fobs are a hair too thick to be placed in wallets or other smaller/thinner objects. Fits easily on keys for bike (which shouldn't have too much weight or dangling objects) but hey constructive critisizm, right? and 2 is that the beeps are in such a frequency sometimes I have to press the button a few times because its hard to track when only a few feet away. hard to explain, but also a small complaint so not that importanteven if you do buy.

Esky Wireless RF Item Locator Key Finder

The Esky Wireless RF Item Locator Key Finder is a handy tool. If you are always losing things and need to find them quickly, this might be the answer. I keep my keys in my pocket and rarely lose them. However this device has some other uses. The remote does have a LED flashlight function for seeking the lost items. The remotes all have a set of rings or adhesive disks to help attach them.
Like I said - I have my keys in my pocket and don't set them down. What I do find useful is a cat locator. With the fob attached to the collar of a cat that likes to hide, I can track the animal and make sure he's not getting shut in a room for the day or attic in the heat. This is a real consideration when there may not be a litterbox in said room. The locator works by simply pressing the button. I could always hear the beep even when a floor away from the target. I won't be posting photos of the installation in case someone might think it cruel. The fob is light and doesn't seem to bother the cat what so ever. I attached it so it doesn't dangle and possibly snag.

I have used a few other fobs to things like the TV remote and it works great. If you use the base to return the remote transmitter to the same place you can find and track all your misplaced items! My wife does use a unit for her keys and has found them twice. No matter what when you find you item, it's always in the last place you look! With the Esky Wireless RF Item Locator Key Finder you can look there first!

Works as advertised. I attached one to my car's ...

Works as advertised. I attached one to my car's key fob that I had misplaced and was able to find it in minutes. It was in a jacket pocket in my closet but I was still able to hear the chirp of the key finder,  My wife has had success using it too.

I don't know about you folks but I would LOVE to get back all the time I've spent looking for my car keys, my camera, my cell phone, etc. There is NOT a day when I haven't had to stop and search for something that was in my hands just a minute ago. Now with the ESKY Key Finder, I don't have to look, I just have to listen. I tried it from the furthest corners of my house and the receivers were always able to pick up the signal from the transmitter and start chirping away. A definite time saver for all the absent minded professors out there.

Very helpful for finding those missing things...

This product is very helpful for those that lose things often.  Attaching the little fobs to my keys, television remotes and even my home landline was easy.  Each fob is not very big and comes with a battery (as pictured).  Utilizing  the finder was easy and efficient at finding my missing items.  I tested it out throughout my house and was able to locate each item quickly.  Having little kids that love to hide things makes this product very useful in my house.  Just keep the finder out of there reach and it makes finding things much easier.  Great product to find those missing items in your life.

The location keys are pretty large and not exactly great to use on keys if you want to keep your key chain to a minimal. However, it is pretty good for bags and slipping into your friends coats, or attaching it to your pet turtle.

You locate these RF tokens by following a loud series of beeps that go off when you press a button corresponding to its color. The token will beep each time you press it when you're within range to it. It works, but isn't best. A bluetooth token works better because you can see the location of it and how far away or close to it you are.

Great for finding keys or other devices people tend to misplace

Very handy device.  I will be purchasing several of these as gifts for family members.  Works well through walls, upstairs/downstairs, and even outside.  Have not been able to measure out complete distance but it covered my house completely.  The key fobs are relatively small and easily fit on keychain and look like they belong.  They make plenty of electronic chirping noise when select them without being "annoying."  Color coded so can have his/hers/kids.