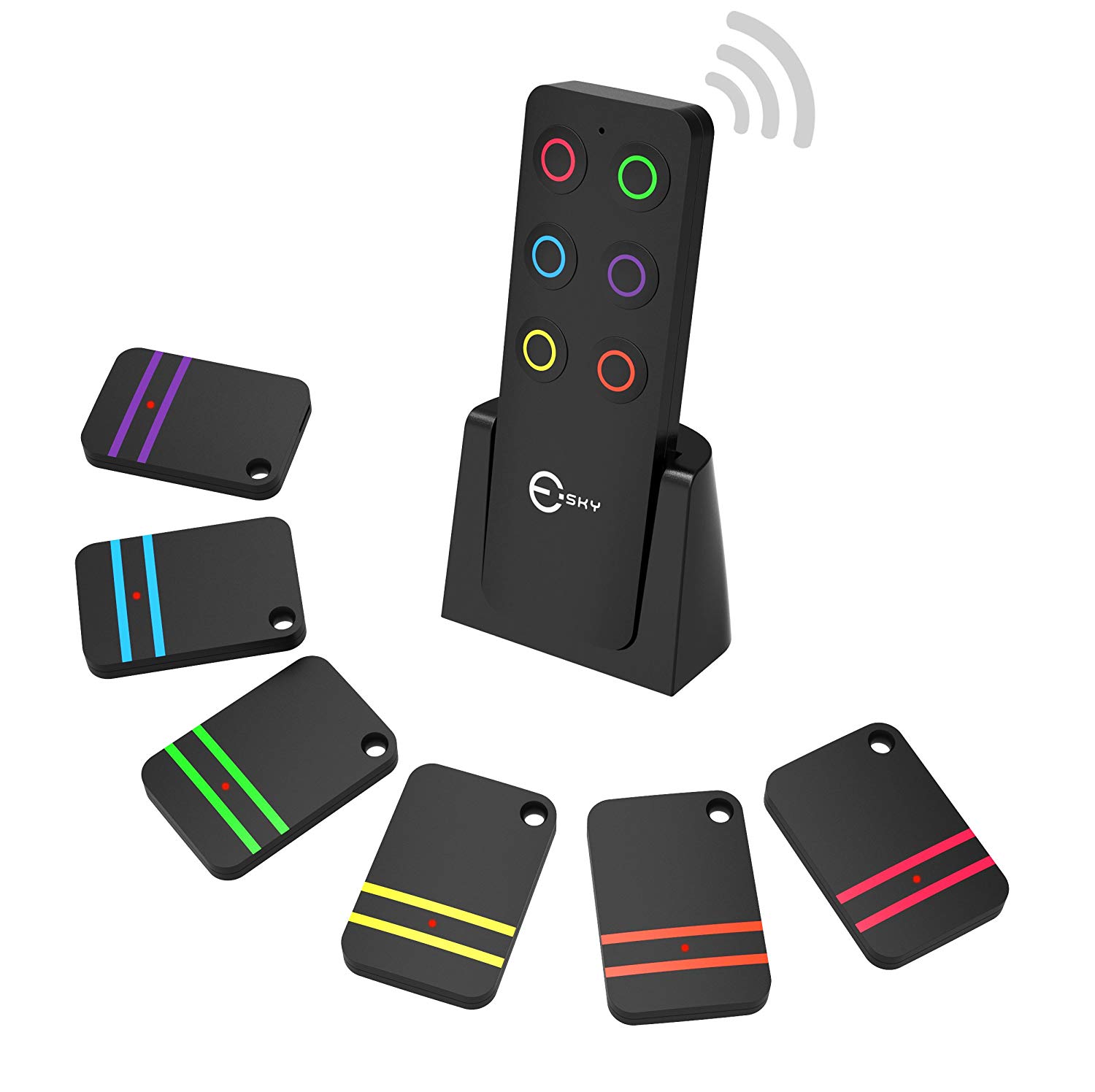 Key Finder, Esky Wireless RF Item Locator Item
$24.99
x
Key Finder, Esky Wireless RF Item Locator Item
Tracker Support Remote Control,1 RF Transmitter and 6 Receivers - Wireless Key RF Locator, Pet Tracker Wallet Tracker


Extra-wide Detection Perimeter


With an alert reminder delivered from the receiver (max. 100ft) to
quickly lead you to your lost item. Radio frequency can easily penetrates
though walls, cushions and doors to find the lost item up to 50ft away, but164ft away in an open space.
Good for forgetful people
Our aging parents keep losing the keys, tv remote and can't find the cats in garden. Get one set of Esky Key Finder for them, it's meant to save trouble in stressful life!
Better than TILE: You can replace the batteries!

This review is for the wireless key finder that uses the flat rectangular transponders. I am overall, very pleased with this product. The cost is much less than TILE, the batteries can be replaced, the size is good. The sound: it sure does make a sound when you need it, just not sure the sound is as loud as I would have designed. Perhaps this was a trade off of design/function/how heavy etc, but overall I recommend this thing.

Great value and is compatible with previous key locator!

Finally can find keys in a reasonable amount of time.

This has been a lifesaver for my husband who is CONSTANTLY losing his keys.  My only wish is that the pieces were smaller.  Once attached to your keychain it becomes a bit bulky.  The battery only takes up about have of the size of the fob, so I wish it was a little smaller.  But otherwise, this is great!

I switch among different handbags, so I easily forgot where I left my mobile, my keys or my wallet. With this little helper, I don't have to search everywhere for those important items. Just press a button, a beep sound will tell me where it is. It saves so much of my time and spares me a lot frustrations.

Great key finder. My kid likes hide my keys and cell phone.Now I can easy to fine them.Already recommended to my friends.

I bought this item to relieve the stress to find wallet. My wallet can go to several different bags depending on the day and sometimes forgot in the car. It can rigger a lot of anxiety when I cannot find it in a hurry. This key finder make this much easier.
This little gadget is easy to set up. It got key rings and adhesive to attach the receiver. Tested working as expected. Heard the beep when wallet inside my bag in another room:)

Has already saved me a few times! I am ...

Has already saved me a few times! I am notorious for losing my keys, even if they are in my purse. The beeps are loud and effective. The fobs are not too large and come with rings and mounting tape. Also came with plenty of cr2032 batteries, which these in itself are expensive.

Works great. Beep is very loud

Absolutely Amazing for busy moms!

I lose my phone keys etc a few times a day being so busy raising boys so I lost my phone outside in the dirt somehow I went outside pushing the beeper and found it within seconds that wouldn't have been had not the beeper was attached thank you!
Specifications:
- Receiver size: 1.85x1.26x0.2in
- Frequency: 433.92 MHz
- Sound volume: 75-80 dB
- Working range: 40-82 feet(open space)
- Battery: 7 X CR2032 Batteries (for receivers and remote , included)
- Housing material: ABS

Package Content:
- 1 x Esky Transmitter (1 stand included)
- 6 x Esky Receivers
- 6 x Esky Key Ring
- 6 x Hook & Loop Tapes
- 7 x CR2032 batteries
- 1 x User Manual
- 1 x Warranty Card

Seller Warranty
- 30-Day Money Back Guarantee
- 12 Month Replacement Warranty
- Lifetime Support Guarantee